Intraday Market Thoughts
Anti-Brexit Trade Boosts GBP
Brexit betting odds are falling and Obama added to the chorus of politicians warning of disaster on the weekend. Liquidity is still thin but cable is up strongly to start the week. Weekly CFTC data helped to explain why GBP/JPY jumped so much on Friday. Market turns to US new home sales but the week's biggest day is Wednesday, with Aussie CPI, UK Q1 GDP, Fed & RBNZ decisions. There are 6 Premium trades in progress after USDJPY was stopped out on Friday. Both trades opened on Thursday remain in progress.
Click To Enlarge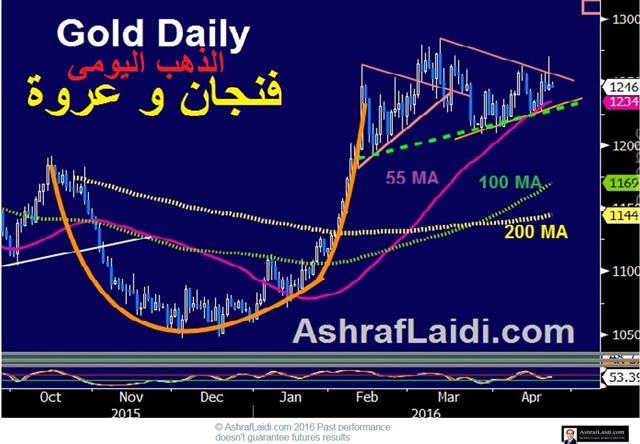 Polls have showing the Brexit side losing momentum a month ahead of the referendum. Business and political leaders in Europe have hammered the public with economic arguments against leaving the EU and it's beginning to work. Obama added his voice on Sunday, saying it might take 10 years to negotiate a UK-US trade deal if the UK leaves.
Cable opened up 60 pips to a five-week high, breaking a potential double top at 1.4450.
Greece is back in the headlines as Germany balks at debt relief. While the story might begin to grab some broader attention, it is highly unlikely to weigh on the euro. The threat of Greece leaving the euro and other countries following remains remote.
Wednesday's main event is the FOMC decision. The risk is that Yellen tries to reclaim some credibility on rates with a hawkish statement that puts a June hike on the table. But Thursday's Q1 GDP and Friday's core PCE price index from the US will be key.
Commitments of Traders
Speculative net futures trader positions as of the close on Tuesday. Net short denoted by - long by +.
EUR -47K vs -52K prior JPY +72K vs +66K prior GBP -55K vs -51K prior CHF +9K vs +8K prior AUD +44K vs +35K prior CAD +7K vs +2K prior NZD +5K vs +4K prior
The yen long is at a fresh extreme since at least 1992 but that may prove to the high-water mark for the medium term after the yen selling on Friday and with the BOJ coming up on Thursday.
The other extreme is GBP as shorts continue to pile in. But with Brexit odds falling, specs began a race to the exits on Friday and the pair rallied more than 400 pips. GBP/JPY has climbed another 80 in early trade.
Act
Exp
Prev
GMT
New Home Sales (MAR) (m/m)
0.527M
0.512M
Apr 25 14:00
New Home Sales Change (MAR) (m/m)
2%
Apr 25 14:00
Latest IMTs