Intraday Market Thoughts
Central Bank Support To Fade
Mario Draghi asked for patience in a signal that the latest round of easing might be done. Markets continued the trend of punishing volatility as the euro jumped and then dropped. Japanese manufacturing PMI is next. 2 new trades were issued ahead of the ECB, both of which are now in progress, bringing the total of open trades to 7. There are 2 trades in CAD, so tomorrow's Canada CPI and retail sales will be key. The technical and fundamental rationale for the combined trades is shared in our English and Arabic videos from earlier this week.
Click To Enlarge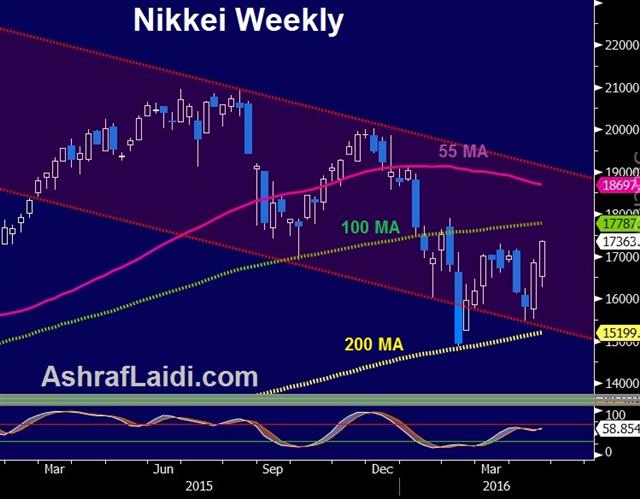 Rate cuts in Europe, China and Japan were the story in the first quarter of the year, along with the Fed rushing to the sidelines. The moves, which may have been coordinated at the G20 in Shanghai, have had the desired effect. Risk assets recovered, commodities climbed and financial conditions improved.
Draghi gave himself a pat on the back at the ECB press conference, saying the March actions helped to shore up the economy. He touted better financial conditions and reiterated that inflation could fall into negative territory but will rise late in the year. It's clear that baring any major changes in markets, he has no plans to ease further.
That type of outlook is likely to spread. The doves will be less dovish and the moderates will shift hawkishly, especially if oil can hold onto this week's surprising gains. Next week is shaping up to be a big test. The Fed may try to re-establish credibility by emphasizing a high likelihood of rate hikes this year. The BOJ would be justified in doing more but if Kuroda also preaches patience it will solidify the wait-and-see theme from the ECB.
The paradox is that risk assets aren't likely to embrace the lack of a helping hand from central banks. Earnings have been mediocre at best so far in Q1. After the bell on Thursday, Microsoft, Google, Visa and Starbucks all missed. It may unfold that central bankers were tricked into believing economies, commodities and inflation aren't as solid as they seem.
In the hours ahead the BOJ will get more data to help them decide what to do next week. At 0200 GMT the April Nikkei Japan PMI is forecast to rise to 49.5 from 49.1. At 0430 GMT, the Feb tertiary industry index is expected down 0.5%.
Act
Exp
Prev
GMT
Nikkei PMI Manufacturing (APR) [P]
49.1
Apr 22 1:00
Eurozone Markit PMI Composite (APR) [P]
53.2
53.1
Apr 22 8:00
Eurozone Markit PMI Manufacturing (APR) [P]
51.8
51.6
Apr 22 8:00
Eurozone Markit Services PMI (APR) [P]
53.3
53.1
Apr 22 8:00
Tertiary Industry Index (FEB) (m/m)
1.5%
Apr 22 4:30
Latest IMTs