Intraday Market Thoughts
Dollar Rebounds, ECB Next
The US dollar regained a footing on Wednesday and touched a two-week high versus the yen. The Canadian dollar led the way while Swiss franc lagged. With little on the calendar in Asia-Pacific trading, we take a look at Thursday's ECB decision. A new detailed piece was issued in favour of our existing AUD trade. The latest Premium vide ahead of UK retail sales, ECB & Philly Fed is posted below.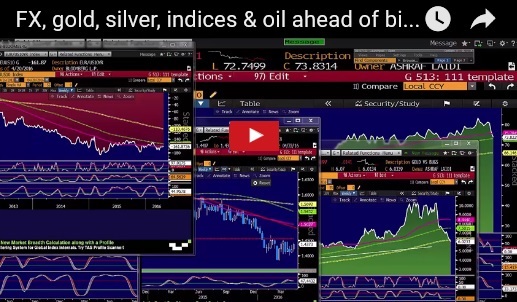 Existing home sales were the lone US economic indicator on the day and they improved to 5.33m, slightly better than the 5.28m consensus. A broader US dollar bid developed and USD/JPY was a beneficiary. The pair rose above last week's high of 109.73 in another early bottoming sign. Talk of BOJ easing next week aided the bid.
Once again oil was in focus as the squeeze higher continued through the May contract expiration. Crude was lower until the US inventory report showed a smaller build that expected and another tick lower in US production. WTI rallied to $44 from $41.60 in the aftermath.
USD/CAD touched another cycle low despite a surprise 2.2% drop in wholesale sales (a 0.4% decline was expected. Later in the day, however, the move largely retraced in a sign that there are few longs in the pair left to force out.
Looking ahead, the main intrigue in the day ahead is the ECB decision and whether Draghi will acknowledge the improved outlook for inflation because of higher commodity prices and better financial conditions.
It's difficult to imagine a scenario where Draghi can completely ignore those factors but he may try to balance it some other way in order to restrain the euro. Part of that will be emphasizing forecasts for year-over-year inflation to fall into negative territory in the coming months before turning higher later in the year.
He could also open the door to rate cuts later. The ECB minutes showed a surprising discussion on whether a deeper cut was appropriate. Theoretical talk about helicopter money and other steps could also be used to contain the currency.
The trade so far this week has been better risk appetite but newsflow outside of the energy market has been light. Beginning with the ECB, the week finishes with a flourish and it may set up some lasting trends.
Act
Exp
Prev
GMT
Existing Home Sales (MAR)
5.33M
5.30M
5.07M
Apr 20 14:00
Latest IMTs