Intraday Market Thoughts
Beware of 6.6 CNY
Fed raises interest rates, China cutting rates so the Chinese yuan has to drop. In fact, CNY is down by more than 2% this week,
posting its biggest weekly drop since that fateful week of late August 2015
. Back then, the PBOC devalued its currency by 2%, prompting a 7% drop in US indices by end of that week, as the Fed was readying its first rate hike since 2006. But that's as far as the similarities go. 2015 featured a disinflationary global economy, reeling from a surging US dollar, tumbling oil and slumping metals and agricultural prices. So what comes next?
Click To Enlarge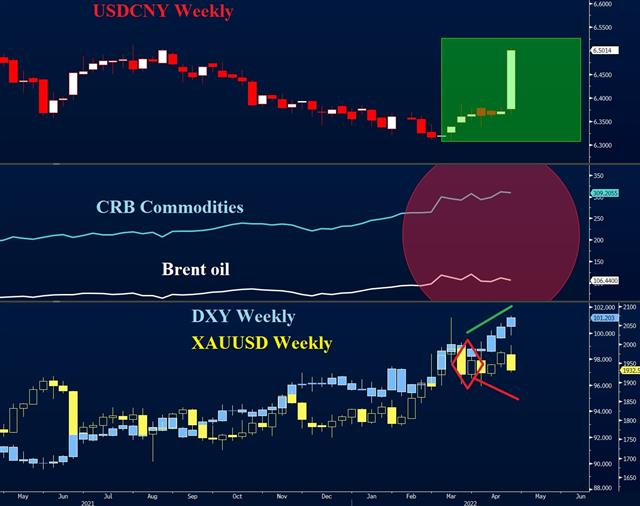 The chart show how gold began to decouple from USD strength around early March, coinciding with the CNY's peak (bottom in USD/CNY). Being the world's largest buyer of raw commodities, China's return to monetary easing coupled with the Fed's tightening rhetoric accelerated the U-turn in USDCNH, while oil and the rest of commodities (CRB & Brent charts) pulled lower.
Any prolonged weakness in CNY is troublesome for the world economy and market liquidity, especially as most central banks are already in tightening mode. This may not be necessarily negative for gold as long as inflation preserves its upward path. So far, 2 and 10 year breakeven inflation are at record highs, helping to alleviate concerns that the Fed has gone too far. As you well now, the US central bank has almost always overtightened, finding itself to ease rates within 18 months.
The continued destabilization in global supply chains and renewed pullback in equities will not help the Fed avoid the same error. Playing catch-up with rates may well crash with the rapid catch-down in consumer and housing demand. And if this begets USDCNH breaking above 6.5 before summer, then we're talking Fed easing by Q1 next year.
Latest IMTs