Intraday Market Thoughts
BoC Won't Budge, Cable Slips
The Bank of Canada may have offered an early preview of the upcoming Federal Reserve decision as policymakers refused to budge until more data arrives. The loonie was the top performer while GBP lagged. The Australian jobs report is due later. A new Premium trade was issued today. The chart below is among the 3 charts used to support the case for re-entering the long.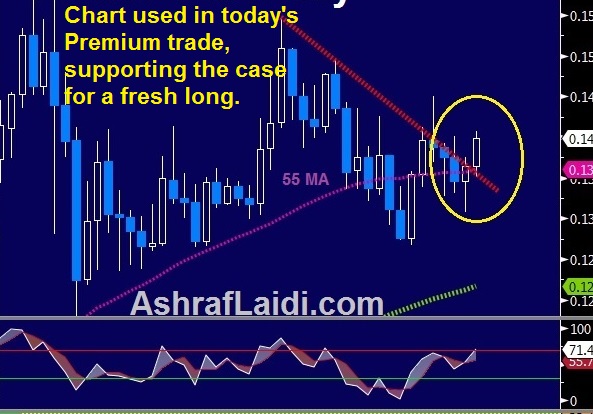 There was speculation the BoC could respond to the volatility in markets due to the Brexit with a surprise cut or an explicit dovish bias. Instead, Poloz held rates unchanged and maintained a neutral bias. Growth forecasts were lowered and the BOC pushed back the timeline for closing the output gap but there was no signal on rates.
Poloz was grilled about housing and weak non-commodity exports and he continued to express confidence that manufacturing exports and investment will soon pick up. The Canadian dollar rallied across the board despite a 4% slump in oil prices but Poloz may face a crisis of credibility in the coming year.
The continuing crisis in UK politics gained some stability as May took over as PM but new questions were raised about her cabinet and GBP slid. Philip Hammond was named as Chancellor of the Exchequer but his reputation as a fiscal hawk dampened hopes for fiscal stimulus. The undiplomatic Boris Johnson also raised eyebrows as Foreign Secretary.
In her first speech as Prime Minister, May reaffirmed her commitment to a Brexit and she named two pro-Brexit cabinet ministers to lead the efforts to Leave and negotiation new trade deals.
The main factor for GBP in the day ahead is the BoE decision. Surely some signs of political stability will be welcomed by Carney but he's sent plenty of signals about easing and, just in the past two days, the majority of economists has now shifted to expecting easing.
Before that decision is the Australian employment report at 0130 GMT. The consensus is for a 10.0K rise with unemployment ticking to 5.8% from 5.7%. The August 2 RBA decision remains at nearly a 50/50 split in the market and this number will go a long ways towards adding a bias and sparking a sizeable AUD move.
Latest IMTs