Intraday Market Thoughts
Boris' Deadline Looms & Four in One
Sterling rebounded Wednesday on signs that negotiations will continue but the situation remains fluid. It looks like
Brexit talks will extend til the last week of December.
The pound was the top performer while the Canadian dollar lagged. US initial jobless claims are due up next.
Four (4) new Premium trades were posted today for Premium subscribers,
including 2 instruments never ever offered in our service. Below is some input from members of the WhatsApp Broadcast Group following Ashraf's reading of gold and metals trades.
Click To Enlarge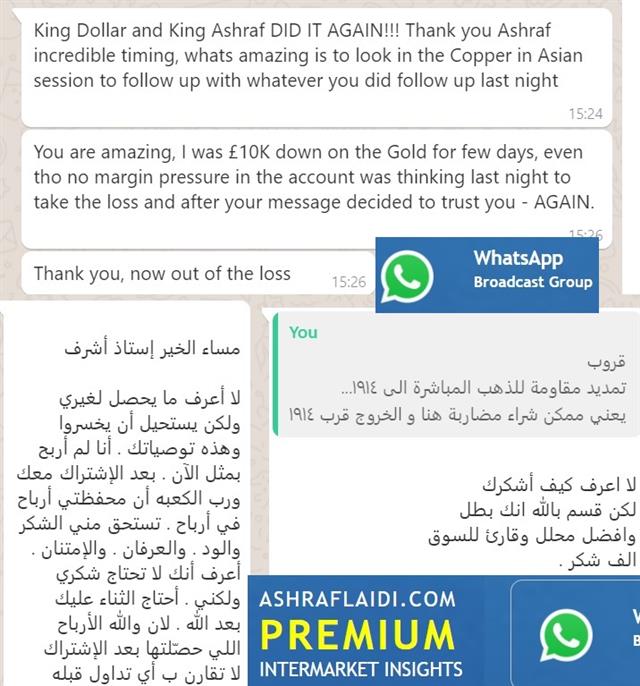 A call between Boris Johnson and Ursula von der Leyen didn't achieve any visible progress. Johnson lamented the lack of progress afterward and said he had to "reflect". Von der Leyen said that they're working on a deal but not at any price.
Johnson is approaching his deadline for talks and will make a decision Thursday or Friday. Sterling bounced on reports suggesting his aides will tell him that a deal is still possible if intensive talks begin in the coming days. Both sides believe that early November is the real deadline, according to reports.
This is a critical point in negotiations but – as we often write – negotiations are always the hardest at the end. Boris is well-known for playing games of brinksmanship and that's how he got his previous deal. No doubt he will do the same this time and that will entail stubbornness. The EU will surely have seen this though and could dig in, leading to a messy outcome.
In all likelihood, a deal is eventually made but like in the US election, the ride may not be worth it for traders.
In terms of the US economy, we get back to some data on Thursday with the Empire and Philly manufacturing surveys along with initial jobless claims. Claims are expected to remain sky high at 825K, a small dip from 840K last week.
Latest IMTs