Intraday Market Thoughts
Breaking Point
We learned this year that financial markets can tolerate a great deal of political dysfunction; Tuesday showed this also has a limit. The yen soared while the Canadian dollar lagged as risk aversion hit hard. Japanese GDP and Australian jobs are due up next. The Premium short in the DOW30 hit its final target for 330-pt gain.
Click To Enlarge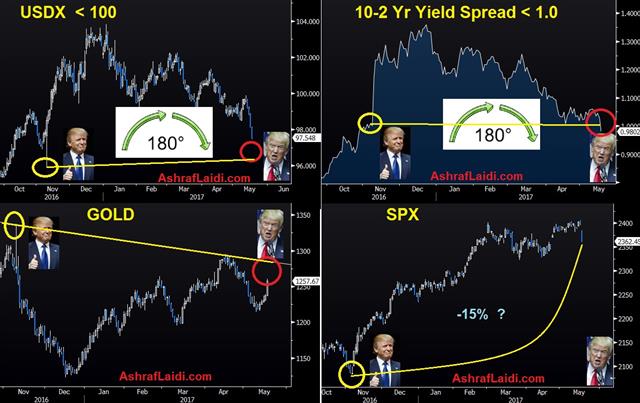 The trigger for the meltdown in sentiment Tuesday was a revelation that Trump asked FBI Director Comey to drop his investigation of Mike Flynn. Legal and constitutional circles have been debating on whether it could be obstruction of justice but markets didn't wait for the answer.
USD/JPY fell more than 200 pips in the worst decline since July 2016, US 10-year yields dropped 9 bps and the S&P 500 fell nearly 40 points. The selling was relentless.
The next move is to take a step back and search for perspective. It seems highly unlikely this is enough to impeach a President. This isn't Watergate. The Republican agenda also probably isn't in peril. If anything, Congressional Republicans will want to get to work and accomplish something in order to help change the conversation.
But maybe the message from markets isn't about impeachment or the Republican agenda. Maybe it's about governance. The breaking point might be that the market has determined that the new administration is so gaffe prone and the President so impulsive that he will never be able to lead effectively. That's the kind of instability that grates on business and sentiment.
It doesn't mean this is the start of a bear market or a recession but it could dial back expectations. The odds of a June 14 Fed hike are down to 66% from 88%, according to the CME's Fedwatch tool. That's not just about politics, it's also a reflection of sluggish economic data.
What's also instructive is that troubles in the present always seem bigger than they are, especially with geopolitics. The market freaked out about Ebola, Russia's incursion into Ukraine, dozens of things that will never appear in history books. There's a good chance that's what will happen next.
Ultimately, the economy is what will guide markets so we look next to key data from Japan and Australia. Up first at 2350 GMT, Japanese Q1 preliminary GDP data is due. The market is expecting 0.5% y/y growth, or 1.7% annualized.
For Australia, the jobs report is at 0130 GMT and forecast to show 5.0K new jobs and 5.9% unemployment. Given the negative rumblings from China, we will be watching Australian data closely in the coming months.
Act
Exp
Prev
GMT
Prelim GDP (q/q) [P]
0.4%
0.3%
May 17 23:50
Employment Change
4.5K
60.9K
May 18 1:30
Latest IMTs