Intraday Market Thoughts
Brexit Ticks Away
GBP is the strongest performing currency of the day due to 2 developments (Rees-Mog hint and PMs likely nearing a 2nd referendum). More on this below. The DAX short has been closed with a 220-pt gain. There are 7 remaining Premium trades currenty in progress, all of which are in the green.
Click To Enlarge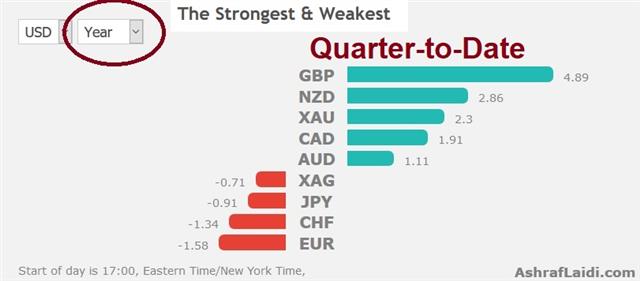 Last night, Parliament voted to take control of the Brexit process from PM May, outlining options such as: holding a second referendum, keeping UK in the EU customs union, existing without a deal and revoking Brexit.
This morning, Brexiteer and ERG chief Jacob Rees-Mogg said expressed his readiness to back Theresa May's Brexit deal, inidcating that her plan is better than not leaving at all.
If this deal is dead, as it appears, then it's tough to envision a way for May to continue governing. It will also leave her party deeply divided in advance of a leadership contest. At best, a compromise candidate could emerge that somehow would be able to shepherd through May's deal with only cosmetic changes. More likely is a prolonging of uncertainty, another referendum or a general election.
Cable's fluctuations remain part of traders' daily order, but the formation of higher-lows over the past week maintains the balance in the bulls' favour. At this point, the market could cheer any semblance of a plan or a way forward because the bulls have little to cling to at the moment.
Looking ahead, the main data point to watch in North American trade on Tuesday will be the March consumer confidence report. All signs point to a better tone and the consensus is for a rise to 132.1 from 131.4 but it will take an especially strong report to reverse the cynicism borne of the inversion of the yield curve.
Act
Exp
Prev
GMT
CB Consumer Confidence
124.1
132.1
131.4
Mar 26 14:00
Latest IMTs