Intraday Market Thoughts
GBP Awaits May's Speech, Risk back off
Global indices are back in the red and GBP pushes near the session high ahead of a speech from PM Theresa May due at 11:30 Eastern/15:30 London/GMT regarding the govt's next plans on Brexit-related vote. Optimism resurfaces on chatter about optimism towards a 3rd vote. All currencies are up against USD since the start of the Asian session, except for JPY and CAD. Gold and silver are at the top. Chicago Fed's Evans said it was understandable to be nervous about the inversion of the yield curve, reiterating it is time to pause on interest rates this year. The Premium short in DOW30 was closed on Friday at 25530 from Tuesday's entry at 25900 for 370-pt gain. Below is a snapshot of the chart & tech rationale for the trade.
Click To Enlarge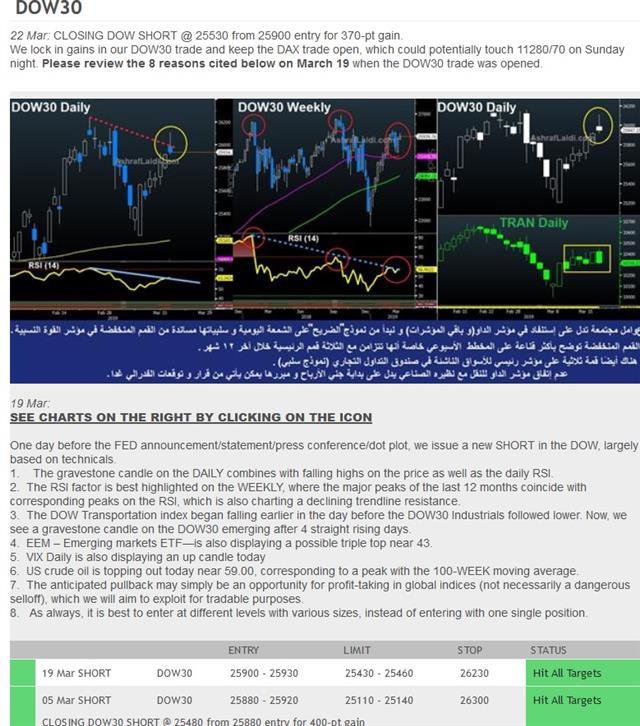 Over the weekend, reports of a UK Cabinet coup have circulated with May to be forced out and replaced with pro-EU deputy David Lidington.Lidington denied the report on Sunday and senior ministers rallied behind May so the coup could be put to rest quickly but the lack of cohesion suggests deep undercurrents of trouble and little prospect that May will be able to rally the support to get her deal through parliament.
May can't technically be forced out because she won a leadership challenge in December, but if Cabinet abandons her and her deal hopes evaporate then she might prefer a quiet exit. Lidington is staunchly pro-Europe so a change might be positive for the pound on hopes for a long Article 50 extension or withdrawal. Most likely he would simply be a caretaker PM until Conservatives could hold a leadership contest. That's something that could stoke a civil war within the party and lead to renewed GBP selling.
The summary of US Special Counsel Robert Mueller's report found that US President Trump's campaign did not conspire with Russia during the 2016 election. Nonetheless, attorney General Barr's summary is inconclusive as to whether Mr Trump obstructed justice.
With regards to the inversion of the yield curve: There are various ways to measure it (10y-2y, 5y-3y or 10y-3m). On Friday, yields on the US 3-month T-bill are below that of the 10-year. It may have only been a momentary blip but other parts of the curve out to 5 years are certainly inverted. Such a move preceded the past 6 US recessions by an average period of 313 days.
The inversion and huge rally in bonds from Wed-Fri belie deep worries about the global and US economy. The S&P 500 fell 54 points to close out the week with the market closing at the lows.
Act
Exp
Prev
GMT
FOMC's Evans Speaks
Mar 26 10:30
MPC Member Broadbent Speaks
Mar 26 11:00
Latest IMTs