Intraday Market Thoughts
Cable Below 1.44, China Trade Looms
The pound fell to a five year low after weak industrial production added to the downtrend. The yen was the top performer while the commodity currencies lagged wit GBP. The razor-sharp focus on China will continue with trade data due later. A new Premium Trade has been issued an hour ago, involving GBP.
فيديو الاسبوع تحليل آخر التوصيات و شرح ديناميكيات العملة الصينية، النفط و مؤشر تداول و دبي
Click To Enlarge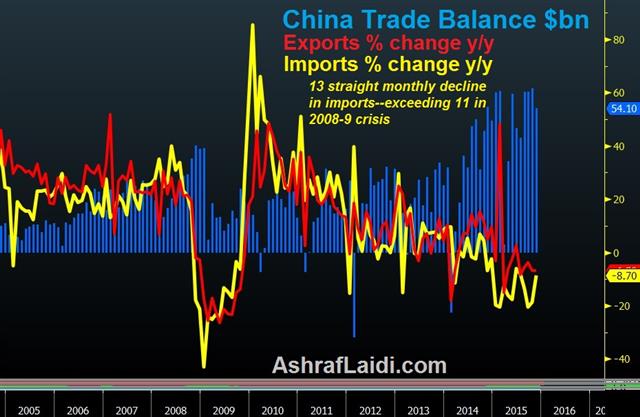 UK industrial production fell a surprise 0.7% in November, much worse than the flat reading expected. The majority of the 750 pip decline in cable over the past month has come on less-hawkish BOE signals and broad USD strength but a softening economy could be a fresh reason to sell.
After a fall as low as 1.4350 cable appeared to find some demand as it bounced 90 pips. The turnaround is the first good signal for the pair since December but it's very early for any optimism.
One place where there is virtually no optimism left is the oil market as it briefly broke $30 in a fall to fresh 12-year lows. The fall from $38 in late December has no doubt left oil executives in dire situation. After seven days of declines and a steady drumbeat of negativity, there may be room for a short-term bounce to $34.
Broader sentiment has begun to stabilize and US stocks rallied late to finish 0.8% higher.
The economic highlight of Asia-Pacific trading comes at 0200 GMT when China reveals trade data for December. The trade balance is expected at +338.8B yuan but the relative rise in imports and exports is a much more important barometer of economic health.
The consensus is for a 4.1% y/y decline in exports, accelerating from 3.7% in Nov. Imports are forecast to tumble 7.9% y/y, from -5.6% in Nov. Chinese importers are at the front end of the global manufacturing cycle and a swift fall reflects a poor domestic and global economy.
At the same time, the US State of the Union speech will begin. President Obama is largely sidelined by Congress on economic issues so he may focus on foreign policy and there is a small chance it could affect oil.
Another spot that's getting buzz is the spectacular rise in offshore yuan lending rates. The Hong Kong Interbank Offer Rate or HIBOR has risen to a record 66.8% from 4% late last week as the PBOC aims to crush yuan speculation.
Act
Exp
Prev
GMT
Trade Balance (DEC)
$53.0B
$54.1B
Jan 13 2:00
Imports (DEC) (y/y)
-11.5%
-8.7%
Jan 13 2:00
Exports (DEC) (y/y)
-8.0%
-6.8%
Jan 13 2:00
Federal Reserve Bank of Boston President Rosengren Speech
Jan 13 13:00
Fed's Evans Speech
Jan 13 17:30
BOE's Governor Carney speech
Jan 13 16:15
Latest IMTs