Intraday Market Thoughts
Offshore Yuan Surges, Lockhart Hedges
A rally in the offshore yuan virtually unwound all the declines in 2016 but markets remained tentative until a Fed official hinted at no rate hikes in Q1. The Australian dollar was the top performer while the Swiss franc lagged. Japan returned from holiday with further rise in the current account surplus. In the Premium Insights, CADJPY short was closed at 82.77 yen from the 85.30 entry, locking in a profit of 253 pips. The cross will be revisited for possible re-entry.
Click To Enlarge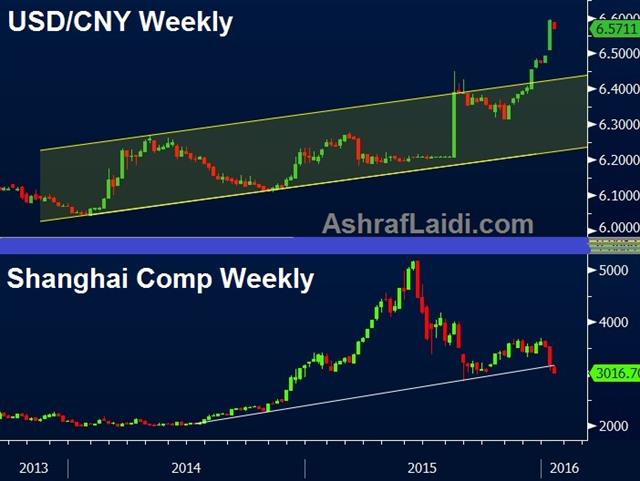 The 0115 GMT yuan fixing is likely to be stronger today after the onshore CNY rose slightly and the offshore CNH surged the most since the free(er) float was introduced. A sharp drop in USD/CNH realigned the two after the IMF criticized the gap on the weekend. The shift sets the stage for a lower fix today and may be an effort to reign in volatility.
In the broader sense, markets also took a small step towards calm on Monday. The yen underperformed, bonds slide and the S&P 500 finished marginally higher. Sentiment improved after Atlanta's Fed's Lockhart said the Fed wants to see rising inflation before hiking and might not learn much more about before the mid-March FOMC meeting. It's the first small step away from the 3-4 hike blueprint the Fed has roughly outlined as a 'gradual' tightening.
Canada oil below $17
While some markets were more calm, the oil markets remains in flux. An early bounced turned into heavy selling as crude fell to a fresh 12 year low below $31 per barrel. Canadian oil is now trading at just $17 and it's no surprise the loonie is also at 12-year lows.
At 0600 GMT, the Japanese ecowatchers survey for the currently lookout is expected at 46.6 from 46.1
Act
Exp
Prev
GMT
Current Account n.s.a. (NOV)
¥1,143.5B
¥858.5B
¥1,458.4B
Jan 11 23:50
Latest IMTs