Intraday Market Thoughts
CAD in the Crosshairs
A drop in oil prices and reports that Canadian officials will try to tame the housing market sent USD/CAD close to 1.35 on Wednesday. The US dollar was the top performer while the Australian dollar lagged. New Zealand CPI and Japanese trade balance are up next. The Premium short in the DOW30 was closed for 205-pt gain, leaving another index trade open. There are 2 CAD trades in progress.
Click To Enlarge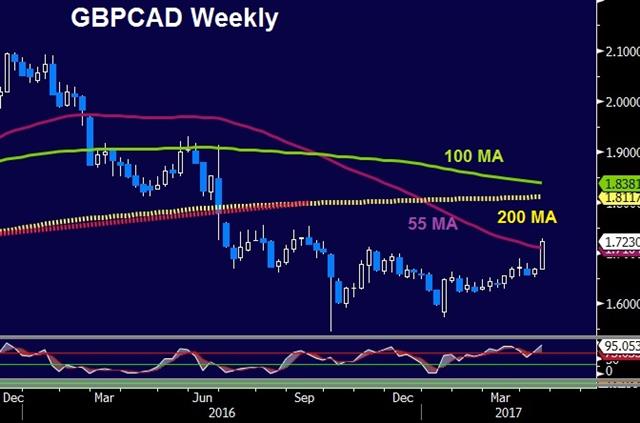 The Canadian dollar has been a challenge for traders this year. A series of headfakes, central bank mixed signals and false breakouts have kept the pair confined in a rough 1.30 to 1.35 range. Economic data has been extremely strong lately but the BOC has warned it's a mirage.
Meanwhile, two other factors threaten to break the range: Oil and housing.
Crude fell nearly $2 on Wednesday after the US reported an unexpected build in gasoline supplies, low demand and another rise in production. That final factor will irk OPEC and could scuttle a quota extension at the May 25 meeting.
If that's the case, crude and the Canadian dollar would swan dive in synch. The assumption is that Saudis will suck it up until after the Aramco IPO but that's a dangerous bet.
For the loonie, the wild card is housing. Tomorrow Ontario provincial government – where Toronto is located – will reportedly unveil 10 measures aimed at cooling the housing market. Leaks sound like they could be drastic as they include rent controls, taxes on foreign buyers, levies on speculators and more. Prices around Toronto have risen more than 30% in the past year and have tripled since 2000 so a correction is long overdue but heavy-handed government intervention could turn it into a rout.
The consumer has long been a major driver of Canadian economic strength but if housing wealth evaporates, so will spending (and CAD).
Technically, 1.3500 offered some tough resistance Wednesday even as oil prices were plunging. Beyond that, the March high of 1.3536 and the late-December, no liquidity high of 1.3599 are resistance. Also note that CAD/JPY is at the lowest since November and GBP/CAD is at the highest since September.
The loonie isn't the only commodity currency that's wilting; AUD and NZD are also nearing the lows of the year. A big factor in whether the kiwi gets there will be the Q1 CPI report due at 2245 GMT. The consensus is for a 0.8% q/q rise. That would be a healthy inflation boost and get prices up to 2.0% y/y.
At 2350 GMT, we'll be watching Japanese trade balance. The consensus is for a 608B yen surplus but more important will be trade growth. Exports are forecast to rise 6.2% and imports up 10.0%.
Act
Exp
Prev
GMT
CPI (q/q)
0.4%
Apr 19 22:45
Trade Balance
0.68T
Apr 19 23:50
Latest IMTs