Intraday Market Thoughts
CAD Slumps Ahead of Election
The FX market struggled to find a theme on Monday with newsflow relatively light. The Canadian dollar was hit by falling oil prices and election uncertainty while the pound was the top performer. The election results and RBA Minutes are due in Asia-Pacific trading. A new Premium trade in FTSE-100 was created with 3 explanatory charts and the fundamental rationale. The existing GBPCAD Premium trade will be updated with a new chart ahead of Tuesday's UK retail sales.
Click To Enlarge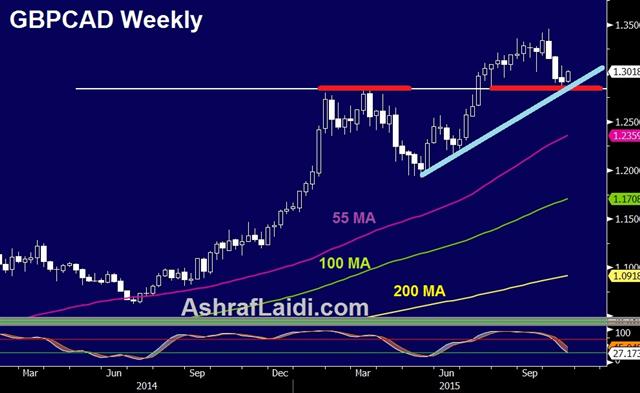 Canadians headed to the polls Monday in an election that's likely to significantly weaken and probably defeat Prime Minister Harper. The Liberal Party and Justin Trudeau lead the polls by 6-8 points and is likely to win a minority government. However, with vote splits Harper's Conservatives could win a minority and that may lead to a gridlock and showdown as other parties have pledged not to work with him. He could wait as long as three months to recall Parliament in that case and the uncertainty could hurt CAD. Other election scenarios are probably CAD-neutral with no main parties proposing (or likely to undertake) anything far from the status quo.
The CAD decline Monday reflected some uncertainty but the 2.3% decline in oil prices were the larger factor.
GBP was the top performer ahead of UK retail sales, but trimmed its gains to 1.5460 from 1.5497 as the 100-day moving average continued to offer resistance.
The Australian dollar also drifted lower to 0.7250 from 0.7300 as sentiment deteriorated. The US dollar got some help from the Fed's Williams who said he prefers to hike sooner and more gradually. It will remain in focus with the RBA Minutes due at 0030 GMT.
The reaction to the statement was heavy AUD buying for several days afterwards as dovish rhetoric never materialized. That skews some risks toward more dovish Minutes with more FX jawboning. If so, the Australian dollar could be vulnerable if Friday's low of 0.7236 gives way. The Oct 12 low of 0.7197 would then come into focus.
Act
Exp
Prev
GMT
FOMC's Powell Speech
Oct 20 13:15
Fed's William Dudley speech
Oct 20 13:30
Fed's Yellen Speech
Oct 20 15:00
Latest IMTs