Intraday Market Thoughts
China Data, MidEast Hit Markets, Yen Fired up
Rising tension bordering on hostility between Iran and Saudi Arabia led to a raucous start to 2016 trading. USD/JPY hit a two-month low in early trading as commodity FX was pelted. The China PMI from Caixin remained in negative territory for a tenth month. There are currently 5 Premium trades in progress.
Click To Enlarge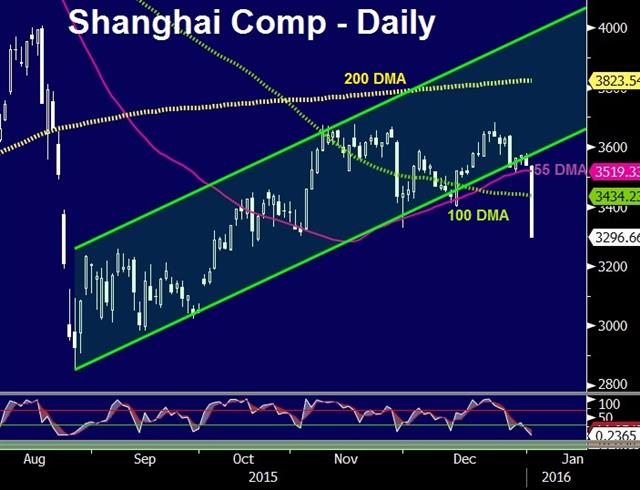 Simmering tensions between Iran and Saudi Arabia came to a boil after a Shiite cleric was executed Saturday. That set off protests and a war of words that escalated as the Saudi embassy was ransacked. Saudi Arabia retaliated by expelling Iranian diplomats and breaking off diplomatic relations.
Both countries are considered the main heavyweights in the Mideast and oil market. Friction there quickly sent oil 1.5% in early trade. That's a relatively small jump that could grow much larger unless tensions are deescalated.
Despite the rise in oil, commodity currencies were sharply lower and the yen higher on risk aversion. Flows are dominating as the market sorts itself out following the holidays and Asian stocks are sharply lower.
In the bigger picture, slowing emerging markets remain a top theme to start the year. The Caixin PMI fell to 48.2 from 48.6 and 48.9 expected. USD/CNY is also in the spotlight as it was fixed at 6.5032 from 6.4936. The offshore yuan is down 0.5% on the day to 6.6032.
The Australian dollar was down 85 pips on the worries with AUD/JPY down 160 pips on risk aversion. Japanese and Chinese stocks are down 2-3%. USD/JPY fell to the lowest since October as the pair broke 120.00 in a quick fall.
Similarly negative sentiment gripped markets to start the year in 2015. Risk managers are rarely in a rush to allocate funds early in the year so support is light. Last year sentiment stabilized and reversed higher around mid-week.
Act
Exp
Prev
GMT
Markit Manufacturing PMI (DEC)
51.3
Jan 04 14:45
ISM Manufacturing PMI (DEC)
49.0
48.6
Jan 04 15:00
Latest IMTs