Intraday Market Thoughts
Why China is Snookered for the Moment
A round of risk aversion that started in China went global in a dismal start to the trading year. The yen led the way and commodity currencies lagged in a classic flight to safety. BoJ governor Kuroda speaks later but the focus is on Chinese stock markets. After closing the Premium Insight's GBPJPY short at a 395-pip gain, a new trade in a yen cross was issued, alongside a new note & chart on the existing EURUSD trade.
Click To Enlarge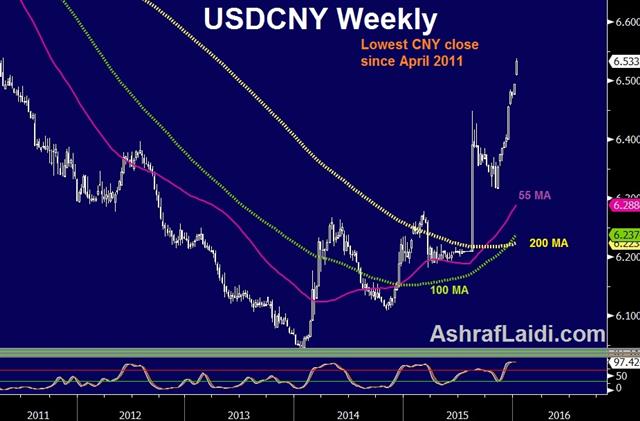 There isn't a simple explanation for the Monday's 7% plunge in Shanghai stocks that tripped circuit breakers, but a few factors help make sense of it.
Yuan weakness and the softer Caixin PMI were widely cited but the expiration of a stock selling ban might be a clearer culprit. On July 8, Chinese securities regulators banned senior management from selling stocks along with investors who owned more than 5% stakes. That's set to expire on January 8 and the selling now may be in anticipation of selling then.
That could mean more selling to come and the PBOC may not be able to fight it. On Dec 30 the PBOC's chief economist wrote that policymakers should improve guidance. He said officials needed to do a better job of keeping financial stability in mind when changing the RRR or short-term rates.
That may mean the PBOC will want to signal a move before acting. Now the PBOC will look like it's reacting to markets if it cuts. That was the case in August and it was interpreted as a sign that the economy was even worse than markets suggested and it sparked a worse panic.The PBOC wouldn't want to be blamed for a second rout so they may play it safe and stay sidelined.
While China grabbed the main headlines, there were some critical developments in the West. German HICP in December was 0.2% y/y compared to +0.4% expected. That knocked the euro to the lowest since the ECB.
In the US, construction spending was far weaker than expected and the ISM manufacturing index fell to a six-year low. Markets finished 2015 in a complacent mood about the economy but they may have been harshly woken up.
In the short term, the swings in China may come quickly. ETFs suggest more Chinese stock selling early but it will be a minute-to-minute trade. Expect USD/CNY to be fixed around 6.60/63 from 6.50 at 0115 GMT. It's a large move and the market still poorly grasps the mechanics of the fix so there may be an overreaction.
The other event on the calendar is Kuroda at 0710 GMT.
Act
Exp
Prev
GMT
Markit Manufacturing PMI (DEC)
51.2
51.3
Jan 04 14:45
ISM Manufacturing PMI (DEC)
48.2
49.0
48.6
Jan 04 15:00
PMI
48.2
48.9
48.6
Jan 04 1:45
Eurozone Spanish PMI Manufacturing
53.0
53.1
53.1
Jan 04 8:15
Germany Markit PMI Manufacturing (DEC)
53.2
53.0
53.0
Jan 04 8:55
ISM Prices Paid (DEC)
33.5
35.2
35.5
Jan 04 15:00
Latest IMTs