Intraday Market Thoughts
Mueller, Retail Sales & China Deal
We'll find out today why US Special Counsel Mueller declined to make a decision on whether to charge Pres Trump with obstructing justice after a 2-year investigation. As for the China story, Trump said there will be a "very big spike" in markets when a China trade deal gets done. But as markets showed Wednesday, that's may not necessarily be the case. GBP ignores stronger than expected UK retail sales. Euro drops across the board on a series of a disappointing Eurozone PMIs. Canada and US retail sales are due at 1230 GMT/13:30 London. Ashraf sent me this chart suggesting that gold will need to stabilise then rally vs copper in order for indices to make any meaningful pullback.
Click To Enlarge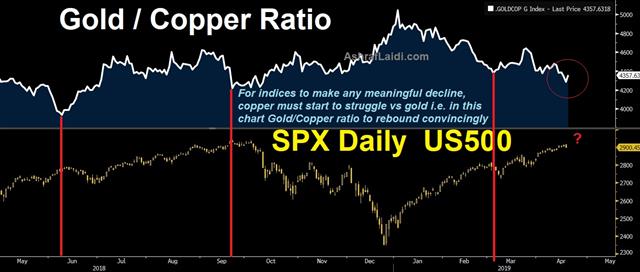 In the past six weeks markets have grown increasingly desensitized to soft news about a China-US trade deal. Presidential leaks and tweets about progress, optimism and good feelings about a deal once stimulated sentiment, now they have almost zero impact.
True signs of progress are now falling flat as well. The WSJ reported Wednesday about plans for Lighthizer to fly to Beijing for talks later this month and counterpart Liu He to go to Washington a week later. They wrote that the aim is to get a deal signed in late May or early June. The report had almost no effect on markets.
The conclusion can only be that a trade deal is 95% priced in or more. The risk then is that there is a 'sell-the-fact' trade in light of the already astounding run-up in stocks since the start of the year. We also remind that Trump's spat with China ramped up almost immediately after finishing NAFTA negotiations. Trump may pivot to Europe after a China deal and create a fresh impetus to de-risk.
Canadian and US retail sales are due later today in what will be a sharp focus on the consumer globally. Beware of a drop off in liquidity and trading late in the day with most world markets heading out for the Good Friday holiday.
Act
Exp
Prev
GMT
Core Retail Sales (m/m)
0.2%
0.1%
Apr 18 12:30
Latest IMTs