Intraday Market Thoughts
Complicated and Grim
China's trade minister called the global economic situation "complicated and grim" at the start of the G20. The yen was the top performer last week while the pound sterling lagged once again. CFTC positioning data showed increasing euro shorts and yen longs. Our Dow30 Premium trade was stopped out on Friday, raising questions as to whether a new bull market is underway. Will cover these points in this week's Premium video. 7 Premium trades remain in progress.
Click To Enlarge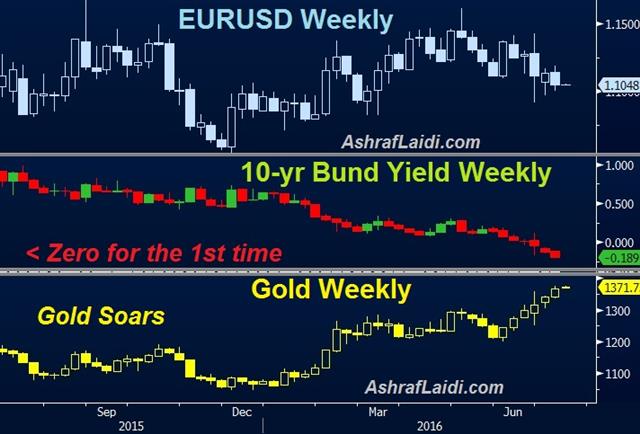 "Complicated" is the set of tools central bankers are increasingly reliant upon to stimulate any kind of inflation. Hopes for pre-crisis style growth are increasing "grim" as politicians fail to reform economies and stimulate growth.
Stepping back from the day-to-day FX moves, we see sluggish-at-best economic growth on the foreseeable horizon that's complicated by growing unrest and a near-total lack of global leadership. The type of volatility this year promises to be the baseline for years to come.
Weekend data showed China CPI at +1.9% y/y in June compared to 1.8% expected. Those numbers leave Chinese officials with plenty of ammunition to stimulate but their still waiting and watching how the latest rounds of easing filter through the economy.
In Australia, Malcolm Turnball has finally claimed victor in the election. The final tally still isn't complete but he will have the narrowest majority in parliament. The news was largely priced in late in the week but it may still give the Aussie an early bump.
Commitments of Traders
Speculative net futures trader positions as of the close on Tuesday. Net short denoted by - long by +.
EUR -75K vs -62K prior JPY +64K vs +60K prior GBP -49K vs -43K prior CHF +9K vs +11K prior AUD +5K vs -2K prior CAD +9K vs +11K prior NZD -1.4K vs -2.8K prior
Yen longs have been creeping higher for the past six week and are nearing the all-time high of +72K which was set in April. The market is also increasingly comfortable with the idea of euro shorts with European sovereign yields continuing to fall. On Friday, Dutch 10-years traded below zero for the first time.
Latest IMTs