Intraday Market Thoughts
Oil Drops ahead of NFP
Solid ADP and initial jobless claims were more evidence of a solid US economy ahead of Friday's non-farm payrolls report. The New Zealand dollar was the top performer while the Australian dollar lagged. We take a closer look at oil after it crashed to the lowest since May 11. Ahead of Friday's US jobs report, a new Premium trade has been issued in a global equity index, bringing the number of open trades to ; 5 in FX, 1 commodity and 2 equity indices.
Click To Enlarge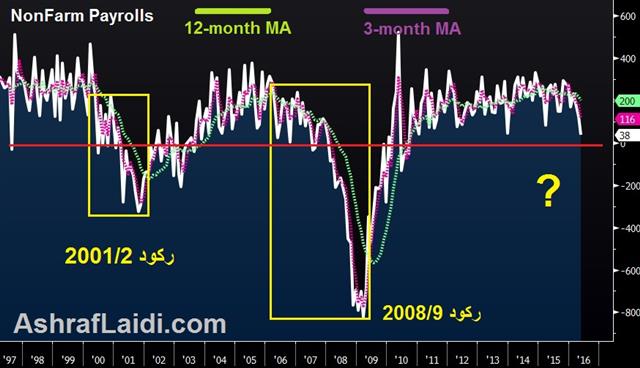 The New Zealand dollar jumped early in the day after RBNZ Deputy Spencer said further rate cuts could pose a risk to financial stability. What he meant specifically, was the red-hot New Zealand housing market. He qualified that by saying that ultimately CPI will determine interest rates but the market had priced in a 65% chance of an OCR cut next month and that's now very-much in doubt.
The US outlook is also complicated. The Fed is certainly in wait-and-see mode but the hawks are already beginning to stir. Mester highlighted signs of wage inflation Thursday.
The pre-non-farm payrolls numbers have been solid. ISM non-manufacturing employment was upbeat Wednesday and today ADP employment rose 172K compared to 160K expected. Initial jobless claims fell to 254K from 268K; that's the best since April.
The May jobs report spooked the Fed but there has been virtually no confirmation of a sharp slowdown in US activity since. A Fed hike isn't priced in until Feb 2019 and although we see a hike in the foreseeable horizon as highly unlikely, the market (and the Fed) could dabble with a renewed hawkish bias in the months ahead.
Perhaps the most notable technical move Thursday was in oil as WTI broke below a triple bottom at $45.80. The trigger was bearish inventory data but also note the weak seasonals in H2. There have been a series of lower highs in oil for the past month and oversupply continues.
In the short term, the next items on the agenda are from Japan. At 2350 GMT, May current account numbers are due. Ten minutes later, the focus shifts to labor cash earnings but expectations for a pickup in wage gains are low, with economists looking for only a 0.5% y/y gain in May
Act
Exp
Prev
GMT
ADP Employment Change (JUN)
172K
152K
168K
Jul 07 12:15
Challenger Job Cuts (JUN)
-14.0%
-26.5%
Jul 07 11:30
Initial Jobless Claims (AUG 02)
254K
268K
270K
Jul 07 12:30
Continuing Jobless Claims (JUL 25)
2124K
2168K
Jul 07 12:30
Latest IMTs