Intraday Market Thoughts
ECB Without a Plan, AUD Hit by Capex
The major story on Wednesday was a leak from the ECB but with just 8 days to go, it's concerning how little has been decided. The kiwi was the top performer while the Swiss franc lagged. Aussie is falling across the board following worse than expected decline in Q3 and plannned 2015-2016 capex. The link to the English Premium Video Analysis is found here and the Arabic Video is found here.
Click To Enlarge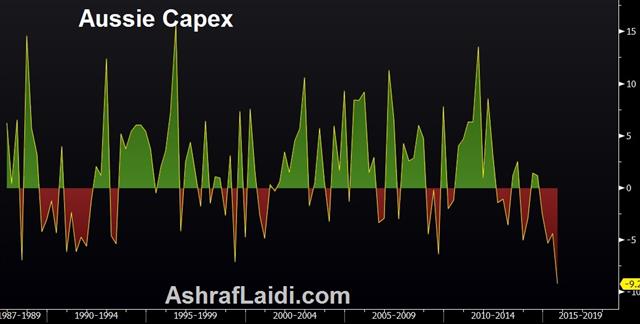 ECB sources spoke to Reuters and it was revealing how many soft ideas they touched on. A two-tier deposit rate depending on how much is parked at the ECB, municipal/regional bond buying and buying bank loans were floated in a story that sent the euro more than 120 pips lower to a fresh seven-month low.
The market may have gotten the initial reaction wrong. In a week the ECB needs to make a decision and implement a plan. There might not be enough time to sort through these ideas. If there are complications, the ECB may be comforted by the euro at 1.06 and decide to only unveil part of the plan while hinting at more in January when more work is done. That could create a quick EUR/USD short squeeze to 1.10.
The US headed away for a long weekend on Wednesday and that leaves flows to dominate ahead of month end and the major announcements next week. Crowded USD longs were closed out in the final hour of European trading creating a minor reversal.
US economic data included new home sales (soft), U Mich final sentiment (soft), jobless claims (soft), Markit services (strong), PCE inflation (soft), consumption (soft) and durable goods orders (strong). The US dollar showed no strong reaction to any of the numbers.
The Australian dollar is falling across the board after Q3 capex tumbled 9.2% --the biggest fall since 1989--vs an expected decline of 2.9%--from -4.4% in Q2. Planned capex for 2015-16 came at A$120.4 bn, matching consensus of A$120 bn.
AUD has been resilient in the past day despite a soft construction report. That data puts a downside skew into today's number because it samples from the same industries.
Act
Exp
Prev
GMT
New Home Sales (OCT) (m/m)
0.495M
0.500M
0.447M
Nov 25 15:00
New Home Sales Change (OCT) (m/m)
10.7%
-12.9%
Nov 25 15:00
Durable Goods Orders (OCT)
3.0%
1.7%
-0.8%
Nov 25 13:30
Durables Ex Transportation (OCT)
0.5%
0.3%
-0.1%
Nov 25 13:30
Continuing Jobless Claims (NOV 13)
2.207M
2.164M
2.173M
Nov 25 13:30
Initial Jobless Claims (NOV 20)
260K
270K
272K
Nov 25 13:30
Latest IMTs