Intraday Market Thoughts
Fed To Take It Slow
The FOMC decision gave a nod to better sentiment but offered no guidance on how soon it could hike. The US dollar slumped after the announcement with a March hike more in doubt. A new Premium trade has been added, backed by 6 reasons and 3 charts. Having broken a key moving average for the 1st time in 366 days, this trade is for medium and long term traders.
Click To Enlarge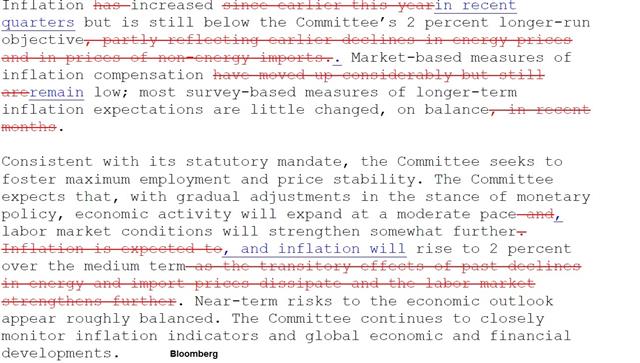 The Fed funds futures pricing for a March 15 hike is at 32.0%. That's rich given the FOMC statement was largely the same. There was a notable upgrade on consumer sentiment and it removed some caveats on inflation that had pointed to only a temporary bounce but the bulk of the message was the same. The Fed said the balance of risks was neutral and that hikes will be gradual.
The FOMC is clearly in wait-and-see mode on the economy and politics. About half the FOMC upgraded forecasts to include fiscal stimulus but that's as far as they will go. They want to see some hard evidence from Congress before they proceed and they would surely like a bit less uncertainty from the President as well.
It's a similar story on the economy. There has been good news but it's been in sentiment and that's something the Fed acknowledged. Those high hopes can be unwound quickly unless they're followed by growth and investment.
A good sign came from the ADP employment report with private jobs up 246K compared to 168K expected. The report has been correlating more closely with non-farm payrolls lately and adds some upside risks to the dollar for late in the week.
The other notable news was from the UK where the first reading on the Article 50 bill passed and the final reading was scheduled for next week. The tally was 498 votes to 114 so while the final vote is likely to be closer, it looks as if May will be able to invoke Article 50 before March 31.
From a trading perspective, we were impressed by the bid in the pound through the strong US data and the Brexit news. Some much negativity is priced in and shorts are crowded and taking every opportunity to lighten up. All eyes turn to Thursday's BoE inflation report & Carney's testimony.
Act
Exp
Prev
GMT
ADP Employment Change
246K
165K
151K
Feb 01 13:15
BoE Gov Carney Speaks
Feb 02 12:30
Latest IMTs