Intraday Market Thoughts
GBP Maintains Momentum above 1.30
For the 4th straight day, the British pound is the strongest currency of the day, this time amid remarks from Labour's shadow chancellor indicating that the Boles-Cooper amendment/proposal to stop a no-deal Brexit are likely be backed by Labour. More details on the amendment here. Indices recover half of yesterday's losses after reports of cancelling US-China talks were denied. The Premium long in cable is currently over 180 pips in the green. A new Premium trade will be posted before the close of the London's stocks session.
Click To Enlarge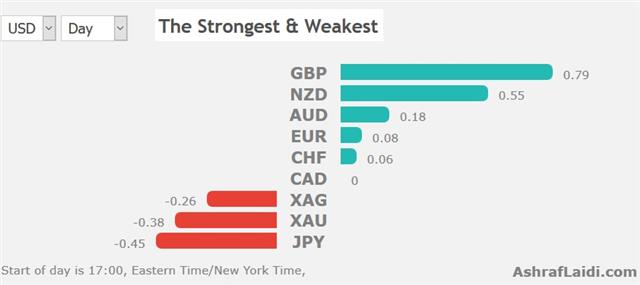 Global indices are rallying back following last night's pullback emerging on the heels of an FT report that the US had cancelled a preparatory trade meeting with Chinese officials. That sent USD/JPY as low as 109.16 before later rebounding to 109.40 when White House advisor Kudlow denied the report. USDJPY is now at
S&P 500 is up 15 pts after having closed down 34 points on Tuesday in a reminder of how sensitive markets will remain to trade troubles. 2600 remains a key support and the index is likely to retest 2680. At the same time, US existing home sales were a reminder of troubles at home after a 6.4% m/m decline in December; much worse than the -1.5% consensus.
Chinese growth also remains a key concern with the IMF lowering its forecast to 6.4%. That's in-line with expectations but a reminder that the pace is headed in the wrong direction.
NZD resumes Wednesday's gains after NZ inflation rose slightly faster than expected and gave the kiwi a 30-pip boost. CPI rose 1.9% y/y in Q4 compared to 1.8% expected. Core measures also rose at a faster pace than Q3. The market is trying to figure out whether the RBNZ will cut rates this year but the implied odds fell to 42% from 50% after the numbers.
Act
Exp
Prev
GMT
CPI (q/q)
0.1%
0.0%
0.9%
Jan 22 21:45
Latest IMTs