Intraday Market Thoughts
Hard Data Shock Pre-Fed
Once is not a problem, twice is not unusual but a 3rd consecutive monthly slowdown in US inflation accompanied by a back-to-back decline in retail sales should deal a fresh blow to the assumption that US bond yields and their currency ought to find their rallying ways due to superior fundamentals. Today's twin data release highlights the Lame Duck nature of today's anticipated Fed hike, highlighting the eroding probabilities for an H2 Fed tightening.
Click To Enlarge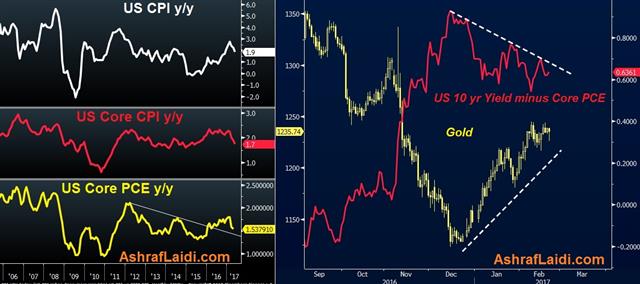 We should watch whether the language in the statement shall add more weight to slowing inflation and pay growth as well look out for any dissents to the assumed hike. The central Fed Funds rate view in the dot plot shall be scrutinized on whether it would be lowered to 2 hikes this year (i.e. no more tightening assuming a hike today). If maintained at 3 hikes, then watch out for the dot plot on growth and Yellen's press conference.
تم تنزيل ملخص صوتي على قناة تلجرام عن بيانات اليوم و "ماذا يجب ترقبه" في بيان الفدرالي و مؤتمر يلن الصحفي T.me/intermarmetfx
Traders will find pockets of consolidation between the 10-15 minutes following the release of the FOMC statement and before the Fed chair Yellen begins her prepared remarks. The final wave of trading volatility is likely to emerge from the Q&A session when the probability for further Fed action shall be weighed through Yellen's discussion of bond sales, weakening wage growth and tepid consumer demand. Both of our Premium USD trades are in the green. Subscribers should watch for any trade action before the FOMC statement.
Act
Exp
Prev
GMT
FOMC Press Conference
Jun 14 18:30
Latest IMTs