Intraday Market Thoughts
On the Equities JPY Divergence
Tumbling yen crosses (soaring yen), falling US yields and rising US stocks -- The 12-month chart below illustrates this is not the way things are supposed to go. All 3 markets (USDJPY, US 10 year and US equity indices) have usually moved in tandem with the rationale being that risk aversion and/or slowing economic conditions tend to drag down interest rate expectations (lower yields), keep funds in low yield and higher current account surplus Japan and supress profit expectations.
Click To Enlarge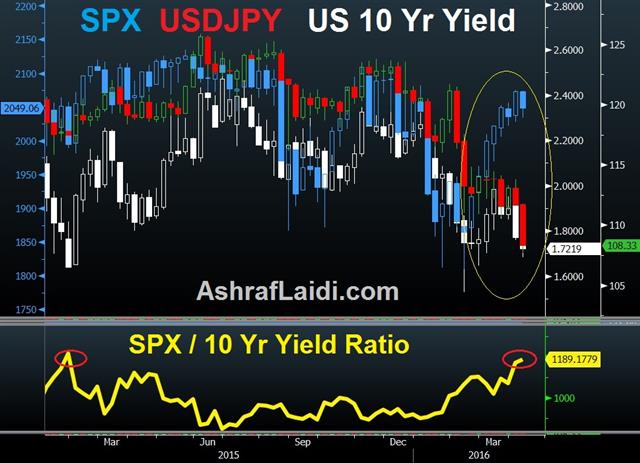 Notably, the positive correlation between yields and yen crosses ranks among the most robust in the intermarket space, hence, the ongoing correlation in the upper half of the chart between USDJPY (red) and US 10 year yield (white).
One reason to the divergence in SPX away from yields and yen crosses is the sharp reduction in market expectations of a Fed hike, which generally weigh on USD, keep speculative capital in lower yielding/higher current account surplus currencies and simultaneously reward equities on the argument of lower discounting rate of profits.
But beware of fundamental explanations for market conditions. Often correlations do break due to technical factors, rebalancing of benchmark/indices, maturing derivative contracts etc.
The rise in SPX relative to yields is highlighted via the ascending SPX/YIELDS ratio in the bottom half of the chart, showing the highest level since Feb 2015 – a time when both markets were tumbling, albeit more in yields. Interestingly, the Feb 2015 high in the ratio was the highest on record.Today. Stocks' advances are backed by increased signals that Yellen is in no hurry to hike as well as stabilization dynamics from China.
A situation when risk appetite is manifested only via limited gains in equities rather than a full-fledged rally in yields and yen crosses could suggest that further gains in equities may be limited, especially as we approach another dismal US earnings season (low or negative earnings growth, high on cash and low on visibility).
On the trading side, our Premium trades this week, took profit on GBPJPY (315 pips), USDJPY (340 pips) and DAX (285 pips). There are currently remains 5 Premium trades in progress.
Latest IMTs