Intraday Market Thoughts
Real Money Move Begins
The Brexit bit another 450 pips out of cable on Monday as the pair fell as low as 1.3121 before closing a cent higher. The yen was the top performer as USD/JPY slid towards 100.00. The Asia-Pacific calendar is light but the Brexit drama will surely keep the market occupied. The Premium short Dow30 trade hit its final 17070 low target for 540-pt gain. A new GBP trade was issued, with the charts added this evening.
Click To Enlarge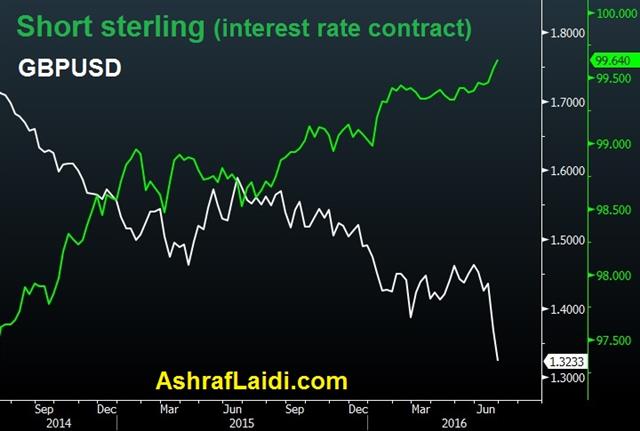 Speculators move markets quickly but real money is what sustains the momentum. Pensions and funds often wait for the headline dust to settle before slowly shifting positions. The chart above shows the short sterling contract on BoE rates has escalated, allowing for improved odds of a BoE rate cut.
That's what got underway on Monday as the Brexit vote raises a series of unanswerable questions. To top it off, England was ousted from the Euro 2016 Tournament by Iceland.
A stream of Brexit comments including a push from Europe to hurry up an Article 50 notice weighed heavily on the pound. Late in the day, S&P downgraded the UK credit rating two notches. A move was largely expected as they had been the only agency that continued to rate the country AAA but they skipped AA+ and went all the way to AA. Fitch also cut the UK to AA from AA+.
The low in the day for cable came after Scottish leaders declared they would ignore the result of the referendum and remain in the EU. Those kinds of proclamations raise constitutional issues and more uncertainty.Global stock markets continued a freefall. The S&P 500 fell 1.8% to 2000 and closed below the 200-day moving average for the first time since mid-March.
Central banks are the next focus. The market has virtually priced out the chance of an FOMC hike this year and sees a 23% chance of a cut in September.
The Bank of England meeting is scheduled for July 14 and the market has priced in a 53% chance of a cut. That probability would be 100% if not for the inflationary effects of the collapse in the pound. Carney will need to balance that out as he fights off criticism for his perceived interference in the EU vote campaign.
Looking ahead, the economic calendar is quiet until core PCE on Wednesday and Eurozone preliminary CPI on Thursday. But economic news will have very little impact at the moment and likely for the remainder of the week.
Latest IMTs