Intraday Market Thoughts
Reversal Tuesday, NZD Rises on Jobs
The US dollar hit cycle lows and then stormed back on Tuesday, marking impressive reversal signals on the daily charts. The commodity currencies lagged badly following the RBA rate cut. In early Asia-Pacific trading, the New Zealand Q1 employment report led to a kiwi rebound. The trades in the Premium Insights hit their final targets in USDJPY and EURUSD, while stopped out in AUDNZD. A new trade has been issued after the NZ jobs. Ashraf's latest video on FX and equity indices trades and charts for subscribers is found below.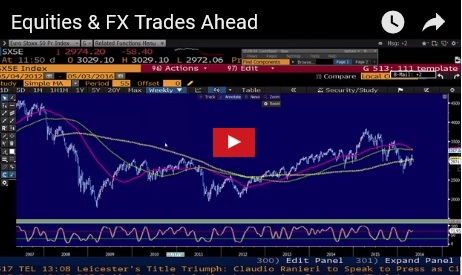 The dollar finally has a pulse. Dollar bulls were battered in March and April but a new month brought new hope Tuesday.
It didn't start out that way as USD hit trend lows against EUR, CAD and JPY early in European trading. From there it was a complete turnaround as a massive bid underpinned the dollar in a steady rise.
There was no clear catalyst for the USD move. Commodity and stock markets were under broad pressure but that was more-likely a result of US dollar strength than the cause.
In any case, a few impressive reversals appeared. EUR/USD touched 1.1617, hitting all the targets in Ashraf's latest trade, before skidding more than 100 pips lower.
USD/JPY also reversed course after hitting a cycle low at 105.57 and finished at 106.80. We continue to preach caution in yen trading with Tokyo on holiday until Friday. Japanese Fin Min Aso was on the wires and used all the code words to suggest intervention is possible at any time.
Perhaps the most compelling charts were cable and USD/CAD. Both traced out impressive outside days with USD/CAD engulfing the previous six trading days in a 250 pip classic reversal pattern. It will take at least another day to confirm the weak-dollar trend is over but with better May USD seasonals and Fed expectations near rock-bottom, there's scope for more.
The focus in early Asia-Pacific trading is the New Zealand dollar. It initially fell to 0.6890 as unemployment rose to 5.7% in Q1 from 5.3% at the end of 2015. But that was skewed by a 0.4 pp rise in participation. The q/q employment change rose 1.2% compared to 0.6% in a better signal about the health of the jobs market and NZD/USD jumped to 0.6935.
More than anything, the NZ jobs report is a good test of the mentality of the broader market. Ultimately, it's good news and if NZD/USD can't hold gains after an upbeat report, then the commodity bloc might be in for more pain.
Finally, news networks have declared Donald Trump the primary winner in Indiana. That gives him a clear path to the Republican nomination and wipes out the risk of a contested convention. From here until November, the focus now is Trump vs Clinton.
Latest IMTs