Intraday Market Thoughts
USD Bubbles, CAD Burned
The US dollar once again showed strength and resilience on Wednesday but the bit story was a sharp drop in CAD on weak trade data and a wicked wildfire in the heart of the oilsands. Australian retail sales and trade data are due later; Japan remains on holiday. Both CAD Premium trades were stopped out, while a new trade has been issued with 4 charts, 5 reasons and 1200 points.
آخر صفقات في العملات و المؤشرات" ** فيديو الأسبوع **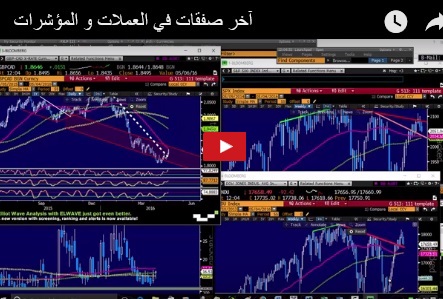 We wrote about the reversals in the US dollar yesterday but the day afterwards is often equally telling. Euro and cable trading wasn't nearly as exciting on Wednesday but it was instructive. Both trades continues lower before consolidating.
Of course, none of that happens in a vacuum so we evaluate the moves against the news and broader environment, which continued to be risk-off. The US dollar was briefly hurt by ADP employment at 156K versus 196K expected. USD/JPY skidded 45 pips to a session low of 106.20 on the headlines. One takeaway is that the pair recouped most of the declines in the following hour. Part of that was better US trade numbers but there was also dollar resilience.
Good news came later as the April ISM non-manufacturing index rose to 55.7 compared to 54.7 expected. USD/JPY jumped more than 50 pips on the news and was able to hold the gains despite falling stocks and yields.
The most impressive US dollar move over the past two days has been USD/CAD. We called it the most compelling chart reversal yesterday and another 170 pips of gains (despite a rise in WTI) underscored the point. The trade had some help from the worst ever month trade deficit in Canada and a forest fire that is ravaging Fort McMurray, which is the small city where 80% of Canadian oilsands workers live. It's been completely evacuated and thousands of structures have burned, leading to widespread production shutdowns, with more looming.
Given the soft Canadian data, there is a downside bias in the 0130 GMT trade balance report from Australia. The consensus is a 2.9B deficit as they struggle to make a similar transition away from raw materials exports.
At the same time, the consumer will be in focus with March retail sales expected up 0.3%.
Finally, keep a close eye on the yen. Fin Min Aso made FX threats yesterday and Abe touched on the same points today. The conventional thinking is that they won't intervene on a holiday but that might be a dangerous assumption.
Act
Exp
Prev
GMT
Retail Sales (MAR) (m/m)
0%
May 05 1:30
ADP Employment Change (APR)
156K
196K
194K
May 04 12:15
ISM Services (APR)
55.7
54.5
54.5
May 04 14:00
Trade Balance (MAR)
-$40.4B
-$41.4B
-$47.0B
May 04 12:30
Trade Balance (MAR)
-3,410M
May 05 1:30
Latest IMTs