Intraday Market Thoughts
Dollar Solid Ahead of NFP
A third day of declines in EUR/USD sets the stage for Friday's non-farm payrolls report. The Australian dollar was the top performer while the Swiss franc lagged. The Australian construction PMI and RBA Statement on Monetary Policy are due; Japan also returns from holiday. There are 6 Premium trades in progress: 2 in FX, 2 commodities and 2 equity indices. A new trade was added yesterday, supported by 4 charts, 5 reasons and the potential for 1200 points.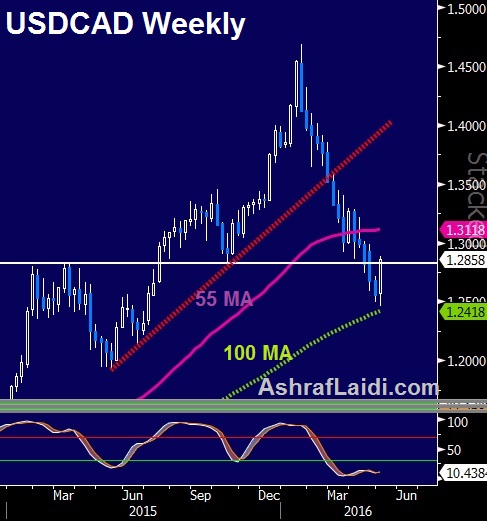 A sideways chop characterized most trading in the day ahead of non-farm payrolls. Weekly initial jobless claims data showed a small bump to 274K compared to 260K expected.
Fed officials continued to extol the virtues of the labor market and casting doubt on GDP. Kaplan, Williams, Lockhart and Bullard were all singing from the same song book but there are confounding gaps in logic. The general theme is that they want to see a pickup in GDP before hiking but that 2-3 rate rises are still on the table.
The problem is that the first reading on Q2 GDP isn't until the end of July. The next meeting following that isn't until September and three hikes before year end would fly directly in the face of the Fed's longstanding 'gradual' hike philosophy, neve rmind their even longer-standing philosophy of doing whatever it takes to keep stock markets strong.
Generally the US dollar was strong, particularly against the euro, which finished the day down 85 pips. The pain finished on the lows and cut through support at the April highs.
Another spot we continue to watch is CAD. It's not surprising it faile to rally even as oil prices climbed Thursday. The driver for crude gains is word that around 800K bpd of crude production in Canada is offline due to the forest fire in Alberta. That will be a major hit to Canadian GDP and trade. Just this week, Canada reported its worst-ever monthly trade deficit.
The bias ahead of non-farm payrolls is mixed. ADP on Wednesday missed but the employment component of the ISM non-manufacturing report was strong. The market is pricing in just a 10% chance of a June hike and 22% in July. A weak jobs report would undermine this week's USD bounce and kill what's left of a Summer hike. What would be the best sign for the dollar bulls, is if the report is weak and USD doesn't fall.
Looking ahead, the calendar features the 23 30GMT Australian construction PMI report for April. The prior was 45.2. At 0130 GMT, the RBA will publish the quarterly Statement on Monetary Policy. The RBA statement from Stevens didn't offer much in terms of bias and the market sees only a 65% chance of a cut before year end. Hints in the report could change that.
Act
Exp
Prev
GMT
Nonfarm Payrolls (APR)
215K
May 06 12:30
Ivey PMI (APR)
57.9
May 06 14:00
Ivey PMI s.a (APR)
50.1
May 06 14:00
RBA Monetary Policy Statement
May 06 0:30
Challenger Job Cuts (APR)
5.8%
31.7%
May 05 11:30
Continuing Jobless Claims (MAY 23)
2121K
2129K
May 05 12:30
Initial Jobless Claims (MAY 30)
274K
259K
257K
May 05 12:30
Latest IMTs