Intraday Market Thoughts
The Age of Instability
In charts – and in life – volatility is usually a sign of a turning point. Another weekend of unexpected events underscores the instability everywhere. Last week the pound was the top performer while the yen lagged in a minor reversal of the Brexit trade. CFTC positioning data showed growing GBP and EUR shorts. An NZD Premium trade is among the 6 open trades agead ahead of the all-important NZ data later this evening (see below).
Click To Enlarge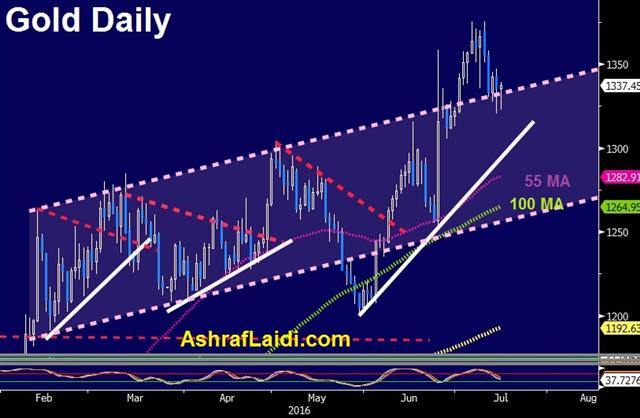 The present always feels more unstable than the past and in many ways 2016 has been no more volatile than the years of crisis, natural disaster, war and revolution over the past decade. What's striking, however, is how a seemingly different set of factors are driving uncertainty.
The attempted coup in Turkey on the weekend comes at a time when the balance of world power is in flux. It's tempting to point to it as an extension of MidEast instability beyond the Arab Spring, or a sign of domestic mismanagement, and that may be the case, but it's yet another event where investors and the public are left with a feeling like the rules have changed.
It comes at the same time as another ambush on police officers in the United States, this time with six shot. The week also marks the beginning of the Republican National Convention. A black swan event to watch in the day ahead if the possibility of a minority report from the rules committee of the RNC. That would force a vote on Tuesday on the convention floor on something that could steal the nomination from Trump.
But even if things inside the convention go as smoothly as possible inside the convention, the possibility of violence outside is high and the likelihood of inane comments inside is a near-certainty.
All this without touching on upheaval in Europe and the rest of the world.
In terms of economic data, the first event to watch this week is the New Zealand Q2 CPI report at 2245 GMT. The market is pricing in a 66% chance of a cut on August 11 but that could shift wildly based on this data point.
Commitments of Traders
Speculative net futures trader positions as of the close on Tuesday. Net short denoted by - long by +.
EUR -88K vs -75K prior JPY +48K vs +64K prior GBP -60K vs -49K prior CHF +6.7K vs +8.7K prior AUD +16K vs +5K prior CAD +17K vs +12K prior NZD +1.0K vs -1.4K prior
The cable position is approaching the most extreme of the year (and the most extreme since 2013). The market was looking for a BoE move and will have covered a bit on Thursday but with more easing assured in August and the inability of the pound to hold gains, shorts will continue to grow.
Latest IMTs