Intraday Market Thoughts
The Central Bank Playbook From Here
Two central banks may have intervened on Thursday as market continue to cast a vote of no confidence in economic leaders. The yen led the way while the pound lagged. Japan returns from holiday in an attempt to salvage a brutal week in the Nikkei. In the Premium Insights, the FTSE short was closed at a gain, EURAUD was stoppped out and 2 new trades were sent today, bringing the number of open trades to 3.
Click To Enlarge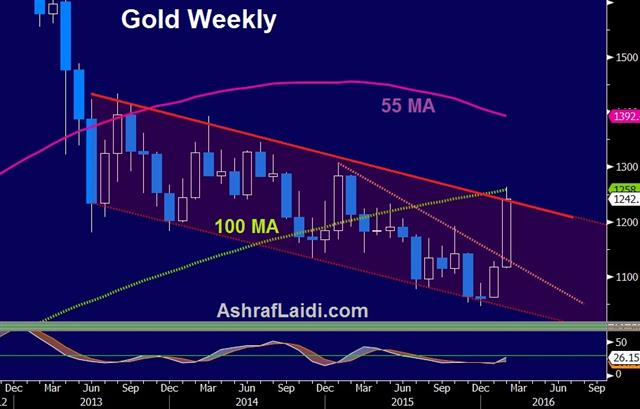 The yen and Swiss franc both suddenly weakened Tuesday in a sign that central banks are once again out of ideas. The BoJ and SNB have tried to weaken their currencies with negative rates but both currencies have been in demand anyway.
Yellen was asked about negative rates at her second day of testimomy and left open the possibility, but said the Fed isn't yet clear on the legality. Even if they're permitted and more stimulus is needed, there are fresh questions about the wisdom of going negative as Japan has demonstrated.
Financials have been hammered this year in part because of a compressed yield curve and other skews because of low rates. Even the wisdom of weakening the currency to promote inflation or the economy is questionable. A 50% drop in the yen hasn't boosted prices or exports.
So central banks will be asked delve deeper into experimental policy. A well-known market commentator today advocated for monetizing debt.
The other option for central bankers is to admit helplessness. They've driven rates to record lows. But given the political and market pressure on central banks to 'do something', more experiments are likely. We are headed towards a permanent era of central bank experimentation. No wonder gold climbed the most in 7 years on Thursday.
Looking towards the days ahead, holidays will play a major role. Japan returns today with the Nikkei down 6.5% on the week but futures pointing 1.3% higher on yen intervention. However, it's tough to imagine investors suddenly feeling better with the US preparing for a long weekend and Chinese markets set to reopen Monday.
RBA Governor Stevens is sounding off a generally positive testimony, praising the continued recovery in the labour market as well as the solvency of local banks.
Act
Exp
Prev
GMT
Fed's William Dudley speech
Feb 12 15:00
Latest IMTs