Intraday Market Thoughts
Do You Believe in Yellen?
Market reactions depend less on the hawkish/dovish inclinations of central bankers and more on whether officials are in tune with signals from markets. The yen was the top performer as USD/JPY fell to 113.10; the Canadian dollar lagged. Expect quiet trading in Asia with China and Japan both on holiday. A new Premium trade has been issued ahead of Friday's RBA testimony and is curretnly in the red. Currently sitting on 240 pip gain on the Premium trade issued Monday, which may be closed during the Asian session. SMS/email will be sent to subscribers if/when closed. Stay tuned.
Click To Enlarge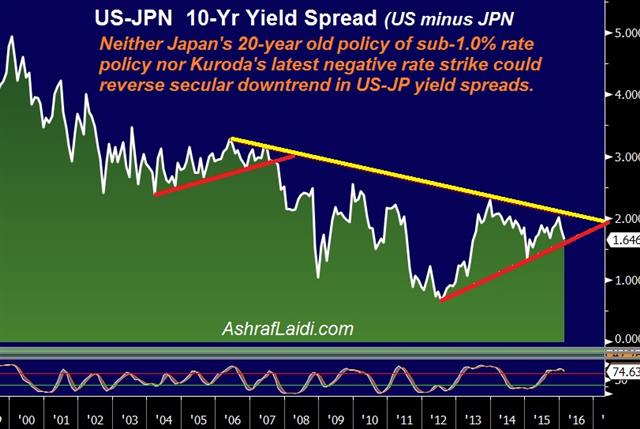 There is no doubt that the past six months have been a damaging time for central bank credibility. A virtually unanimous chorus of monetary policy leaders proclaimed a brighter future, rate hikes and rising inflation. It culminated in the Federal Reserve hiking rates and hinting at four more rate rises to come.
The Fed didn't see trouble coming and its inability to identify problems aside from pointing to 'unease about China' is worrisome. A doctor can't cure a patient if he can't diagnose the problem. Even worse if he doesn't recognize a problem at all.
The first day of Yellen's two-day Congressional testimony showed a paradigm shift in market reactions. The dollar first rallied when she was less dovish than market watchers anticipated. That's the normal reaction. But later the dollar dropped sharply as Yellen expressed a dogmatic attachment to economic data and no urgency to tackle or even understand why markets are signalling trouble.
The shift in market psychology makes sense. Fed funds futures are no longer pricing in Fed rate hikes in 2016. Before any central bank hikes, it will need to re-establish market confidence.
The inability of officials to get a firm handle on the commodity crisis is what's helping to underpin safe havens like bonds and gold. It's also adding currency volatility and shaking out US dollar longs. Until something changes, the trade remains the same.
Act
Exp
Prev
GMT
Fed's Yellen testifies
Feb 11 15:00
Latest IMTs