Intraday Market Thoughts
The Fed Still Has Some Fight
The FOMC Minutes showed that policymakers are tentative but also that they remain biased towards a hike. That will come into play in the medium term but on the day oil and risk sentiment were much larger factors that the Minutes. In the day ahead, Japanese trade and Australian jobs data are due. In the Premium Insights, Ashraf closed the GBPNZD short at a 210-pip gain ahead of the disappointing NZ PPI figures. There are 4 trades currently in progress.
Click To Enlarge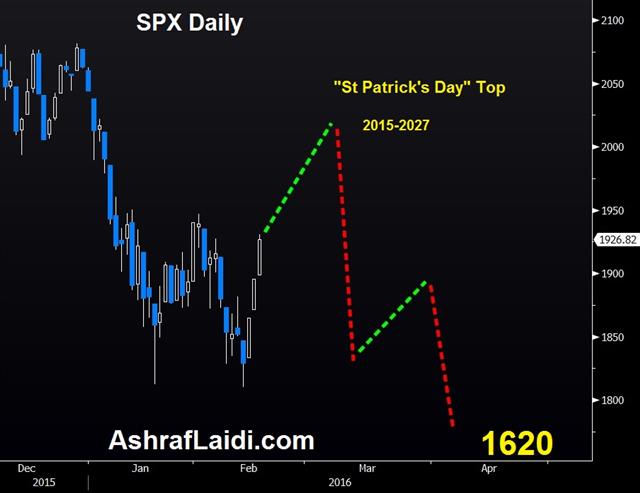 The main headlines from the Minutes focused on chatter about increasing downside risks and confusion about what was going on in markets. That's what sent USD/JPY lower by 40 pips in the aftermath of the report (it later recovered).
What's important to keep in mind was that for 'most' of the FOMC, the broader story remained intact. The Minutes said most saw inflation rising to 2% in the medium term. They expect disinflationary pressures from oil and the US dollar fading. Most saw moderate growth and a solid jobs market.
The divergence between Fed and market views at the moment is as stark as it has been in a decade. The Fed sees four-hikes in 2016 while the market sees no rate rises at least until this time next year.
Even if the market is proven right, there is a great chance there will be an ebb and flow. The pendulum is likely to swing towards the Fed next. The three-day rally in stocks along with a selloff in bonds is a reminder that market sentiment can change quickly. We highlighted economic data yesterday and it remains critical.
On Wednesday, the PPI was a slightly higher than expected at 1.4% y/y compared to the 1.3% consensus estimate. If there are a half-dozen solid economic data points between now and the March FOMC, it's certainly possible the Fed could deliver a hawkish statement that puts a June hike firmly on the table (a March hike is out of the question).
Other central banks are struggling with the same questions and they will also look to economic data. Up first is Japan with the January trade report at 2350 GMT. It's expected to show exports down 10.9% y/y and imports down 15.8% y/y.
The big report of the night is at 0030 GMT when the January Australian jobs figures are due. The numbers have consistently beat estimates over the past year but economists believe some weakness will show up eventually. The consensus is for 13K new jobs with unemployment at 5.8%. AUD/USD is trading near the highest since Feb 4.
Act
Exp
Prev
GMT
Producer Price Index - Input (Q4) (q/q)
-1.2%
1.6%
Feb 17 21:45
Producer Price Index - Output (Q4) (q/q)
-0.8%
1.3%
Feb 17 21:45
Employment Change s.a. (JAN)
15K
-1K
Feb 18 0:30
Fulltime employment (JAN)
17.6K
Feb 18 0:30
Part-time employment (JAN)
-18.6K
Feb 18 0:30
Unemployment Rate s.a. (JAN)
5.8%
5.8%
Feb 18 0:30
Latest IMTs