Intraday Market Thoughts
Yen Rebounds, Kuroda Awaited
The euro fell for the fifth consecutive day as the market begins to focus on potential ECB easing but theyen was the top performer on the day with AUD lagging as a touch of risk aversion returned follow three days of positive momentum. The Asia-Pacific week ends on a quieter note with the Japanese all-industry index and Tokyo department store sales due.Kuroda is set to speak to Parliament from 1:40 am GMT. A 5th Premium trade was added to our existing four trades, which was a little surprising to some clients. Two "parallel" charts join the rationale for the trade.
Click To Enlarge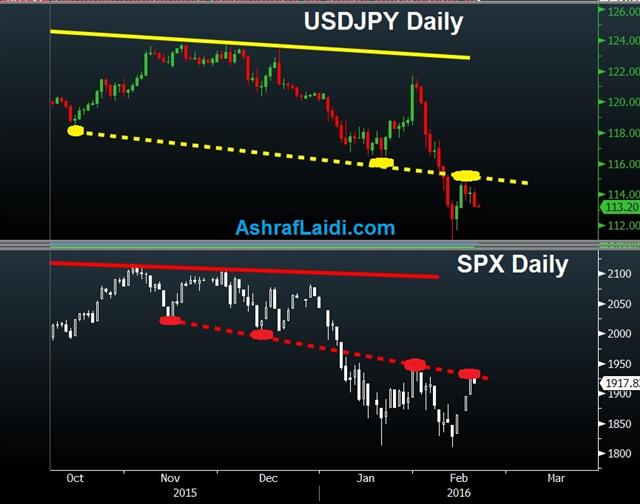 The five day fall in the euro has been driven by the combination of better risk sentiment and expectations for ECB easing. A near term level to watch is the 200-day moving average at 1.1050.
The Fed's Williams spoke Thursday and underscored what we wrote yesterday. He said his outlook for the economy and inflation is unchanged and characterized the trouble in global markets as 'short-term fluctuations'. "The economy is actually doing fine," he said and blamed low inflation on 'global factors' like oil and the dollar.
You wonder if Williams read the news from Wal-Mart, the world's largest retailer. It forecast flat sales in 2016 and revealed just 0.6% y/y sales growth in the US, well below the pace of inflation. Yet his upbeat tone underscored how the Fed is biased towards hiking and seems to selectively focus on data affirming its view. The ECB minutes, meanwhile, contemplated emergency easing towardsm which Draghi has guided.
Gold remains a key focus as it shined again on Thursday, rising $28 to $1230. The latest flush stalled at $1191, which is just above the Oct high. It's also above the 61.8% retracement in two positive technical signs. What stands out more was the aggressiveness of the demand despite a relatively tame environment. The US dollar was slightly soft, stocks were marginally lower and bonds were bid but it was nowhere near the level of risk aversion that boosted gold last week. The ability to hold technical levels and rally in a modest environment should be comforting to gold bulls.
Economic data to watch includes the Japan all-industry index, due at 0430 GMT and expected -0.3%. The yen was stronger Thursday despite fresh talk of easing from Kuroda. An hour later, Tokyo dept store sales data are due. The prior reading was +2.2%.
The focus is likely to be on stock markets after China's pension fund said overnight that it plans to increase its allocation to stocks. Japan Post made a similar announcement yesterday.
Act
Exp
Prev
GMT
All Industry Activity Index (DEC) (m/m)
-0.3%
-1.0%
Feb 19 3:30
FOMC's Mester speech
Feb 19 13:00
Latest IMTs