Intraday Market Thoughts
The Market Has Voted 'Remain'
It may be time to start thinking about the post-Brexit trade. The pound soared 330 pips on Monday in the third day of strong gains. The Swiss franc was the laggard as money left safe haven trades. The RBA June meeting minutes are due later. There are 6 Premium trades in progress. Tomorrow's speeches by Draghi and Yellen are previewed by the Premium Video (see below) with existing and future trades.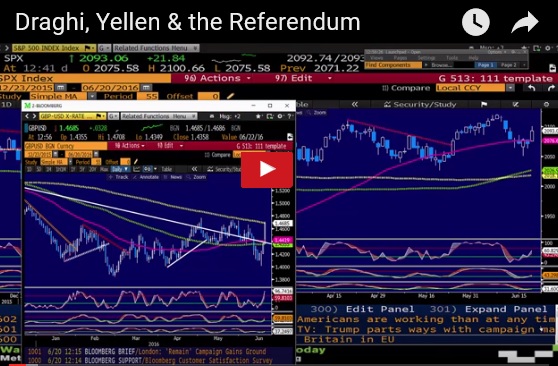 Three polls were released late Monday. NatCen had the 'remain' side up 53-47%, ORB showed 53-46% for remain while YouGov had the 'leave' side retaining a 44-42% lead. Ladbrokes reported that 95% of the money was being laid down on 'remain' Monday.
That same trend was clear in the FX market where the pound soared. After testing 1.40 during the euro 2016 match on Thursday, the pound is higher by 675 pips.
It may be wise to begin searching for opportunities to 'sell the fact' or looking elsewhere in markets. USD/JPY was a curious trade Monday as it faded below 104 from 104.50 despite positive risk sentiment and rising Treasury yields.
The selling came despite a Japanese press report that corporates are not buying the yen (ie selling yen crosses) at these levels. They're waiting for the Brexit dust to settle and hoping for better rates. When they inevitably are forced to buy it will cap gains in USD/JPY or push the pair lower.
An underrated risk on Tuesday is the German constitutional court decision on the OMT. It's an amalgamation of 5 cases and, while we don't pretend to be legal scholars, we know that courts can be unpredictable.
In the immediate-term, the focus will be on the release of the RBA June minutes at 0130 GMT. The statement had a clear wait-and-see message but the market continues to price in a 26% chance of a July cut. An optimistic tone in the minutes should help to wipe that out and boost the Aussie.
At the same time, Q1 data on Australian house prices are due. The RBA has shifted some of the reaction function for housing to macroprudential policy but they will find it hard to ignore the 7.5% y/y rise that's expected.
Other events to watch are the 0430 GMT Japanese all-activity index and a speech from Kuroda that doesn't yet have a scheduled time. The market is desperate for a signal about July easing.
Latest IMTs