Intraday Market Thoughts
Polls Show Brexit Chance Fading
The Thurs/Fri turnaround in the pound is a powerful signal about the result of the eventual Brexit vote. The yen was the top performer last week while the Canadian dollar lagged. Chinese property prices were released on the weekend and Japanese trade balance fell 32%. On Sunday evening, GBPUSD gapped up by 100 pips to 1.4460s on new polls showing the Stay camp leading over the Leave Camp.
Click To Enlarge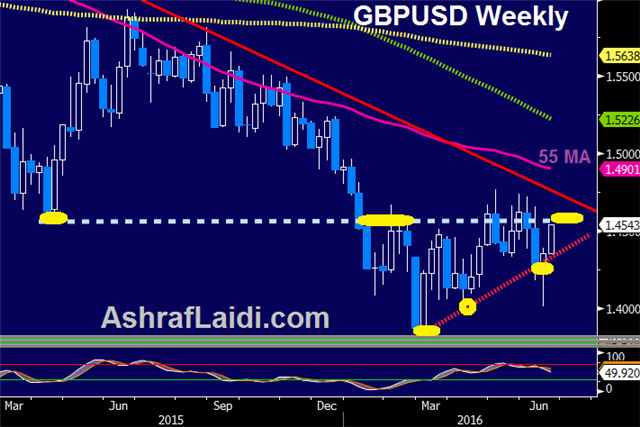 Late in European trading Thursday the pound reversed on the death of pro-stay MP Cox and it continued to soar until late Friday. As a result, GBP/USD finished higher on the week in a 350 pip climb from the lows.
The assassination of Jo Cox is likely to be remembered as the turning point but the 'leave' side was always an underdog. The latest two polls show 'remain' ahead 45%-42% and 44%-43% but the undecideds in a referendum almost always swing heavily toward the status quo.
Perhaps the best signals for the remain side are the GBP/USD technicals. The pair found support at 1.40, which was a critical spot. The reversal also closed above the May low, negating the potential breakdown.
In any case, the race isn't over yet. Expect a few low liquidity twists and turns before June 23 and a flood of trading after the result is clear. Be wary of choppy trading as the market re-opens for the week.
At the same time, the rest of the world continues to turn. Chinese house prices rose 6.9% y/y in May compared to 6.2% prior. Price gains have been accelerating as looser lending this year restores the Chinese housing frenzy.
Looking ahead Brexit polls will continue to the most market-moving news. The UK Rightmove house price index is due at 2301 GMT. The prior reading was +7.8% y/y as house price continue to rise globally on low rates.
Latest IMTs