Intraday Market Thoughts
USD Fails to Follow Indices
The march higher in equities continues after existing home sales numbers beat estimates but the reason that USD remains weak across the board is attributed to the fact that emerging markets are fuelling global indices, rather than US data. (see chart below). UK Chancellor Hammond announces a non-inspirting budget and GBP slips off its highs after 2017 and 2018 GDP growth estimates have been revised lower. The minutes of the Oct 31-Nov 1st FOMC meeting are out at 7 pm GMT/London. Ashraf has laid out in today's Premium video that Emerging Markets funds are outperforming their US counterparts. The Premium video will be posted before the US stocks session.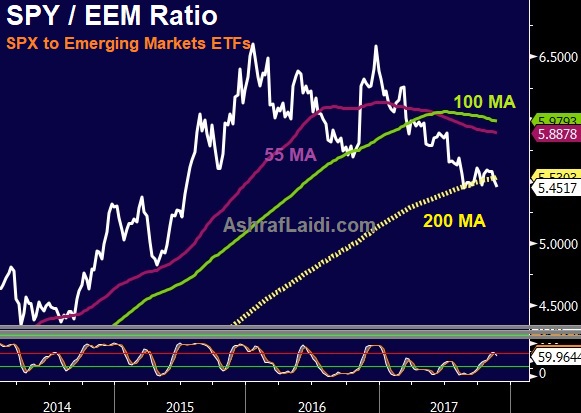 The quiet-markets trade we wrote about earlier this week bore fruit as commodity currencies rallied and the S&P 500 jumped to a fresh record. The yen remains defiantly bid as it has all year.
AUD and CAD resilience against USD as oil climbed and iron ore hit a two-year high. The S&P 500 rose 17 points and touched 2600 for the first time.
In spite of the mammoth climbs in asset prices since the crisis, one area that remains relatively depressed is US housing. It's the area where the crisis began and many buyers and speculators continue to carry the scars.
That may change in the years ahead. October US existing home sales rose to 5.48m from 5.37m, a 2.0% m/m increase. The median house price is $247K. Compare that to neighbouring Canada where the average selling price is more than double, despite lower incomes. Signs of tightening continue to creep in with US inventories down 10.4% y/y to the lowest since 1999. If the US expansion is to maintain for its pace for a few more years, it will likely be on the heels of rising household spending due to climbing home prices, along with a healthy jump in construction.
Looking ahead, US jobless claims, durable goods and FOMC minutes are out later. Expect thin trading volumes in the US ahead of Thursday's Thanksgiving Holiday.
Act
Exp
Prev
GMT
Second Estimate GDP (q/q)
0.4%
0.4%
Nov 23 9:30
Core Durable Goods Orders (m/m)
0.4%
0.7%
Nov 22 13:30
FOMC Meeting Minutes
Nov 22 19:00
Latest IMTs