Hot-Charts
GBP Getting Best of Down Under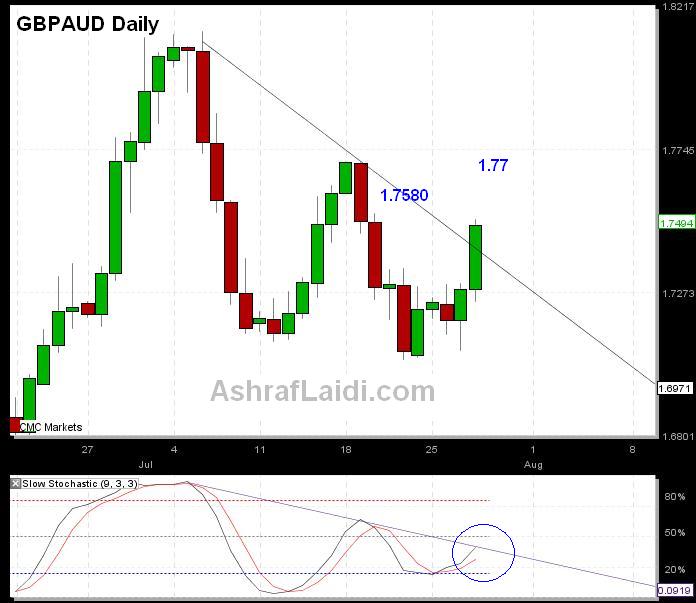 GBPAUD reflects contrasting expectations for the RBA and BoE, with the former expected to keep rates on hold due to softer than expected inflation and the latter seeing better reasons to listen to its hawkish members. Today marked the first time since July 2009 where GBP does NOT fall following Mervyn Kings testimony. With AUDUSD quickly FALLING back below its 200-day MA and GBPUSD RISING above its 200-day MA for the first time since Jan, the preferred play is favouring GBPAUD, especially that any GBPUSD longs from here may face resistance in the event of any sharp risk aversion. Since we know that AUD is the reliable victim of risk aversion, it is best to sell it vs. a currency whose fundamentals are neutral-to-positive. Having simultaneously broken above 200-day and 55-day MA today, GBPAUD eyes interim target at 1.7580s, followed by 1.77. While my bias remains firmly in favour of EURAUD, GBPAUD is an attractive alternative considering my negative positioning on EURGB. A a break below 1.72s merits scrutiny from the longs, while a close below 1.6980s is a red flag.
More Hot-Charts
Jan 11, 2023 10:57 | by Ashraf Laidi

If the DAX40 maintains its habit of extending 13% above its 200 DMA, then current upside may extend to as high as 15300, just below the 76% retracement of the decline from the Jan 2022 high to...

Dec 6, 2022 14:34 | by Ashraf Laidi

We know the DXY is highly correlated with USD/CNH so if the Head-&-Shoulder on USD/CNH formation proves valid, then further USD downside lies ahead. ..

Nov 12, 2021 12:55 | by Ashraf Laidi

https://www.binance.com/en?ref=13288560...
Hot-Chart Archives