Hot-Charts
USDJPY 4-week Cycles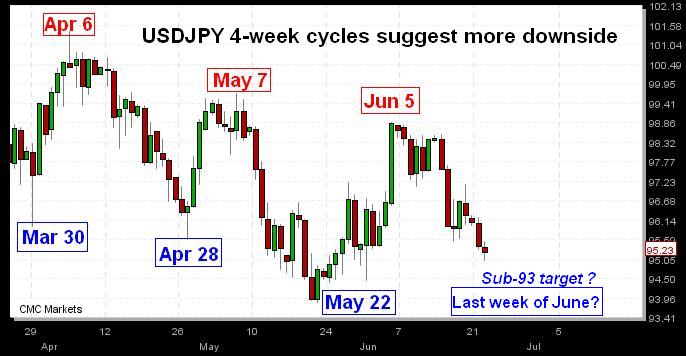 USDJPYs 4-week cyclicals suggest renewed downside into month and quarter end amid medium-term USD weakness associated with Fed asset purchases and the defensive risk climate suggested by struggling equities. Note the last 3 major peaks and troughs in USDJPY occurred at 4-week intervals, which suggests that the next cycle low could take place by next week, calling up a a level near 92.50-93.00. While we could see modest gains in equities in the aftermath of todays FOMC statement, both equities and USDJPY suggest further downside ahead. USDJPY resistance capped at 95.90s, with interim downside target at 95.10, followed by 94.50. Current cyclical pattern suggests sub 94 and onto low 93s by mid next week.
More Hot-Charts
Nov 12, 2021 12:55 | by Ashraf Laidi

https://www.binance.com/en?ref=13288560...

Nov 8, 2021 17:05 | by Ashraf Laidi

We know that Gold's commitment reports from the Comex is for the trading working period ending in a Tuesday.

Aug 10, 2021 18:42 | by Ashraf Laidi

The below analysis was carried out last Friday (Aug 6th), after which both BTC and ETH have risen more than 14% each.
Hot-Chart Archives