Hot-Charts
DAX Metamorphosis
The Daily DAX30 chart below may appear confusing at first, but it's worth taking some time to find the "clarity". Is this case of a metamorphosis from one textbook formation to another? We think so.
Click To Enlarge
Click To Enlarge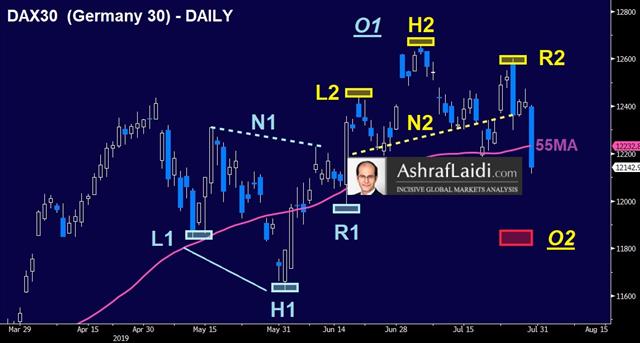 Getting to the point: The formation starts with an inverse head-&-shoulders (bullish) formation, highlighted by the blue letters (L1, H1, N1, R1) and its corresponding objective near 12,655 (O1). The 12,655 objective then initiates a head-&-shoulders (bearish) formation, highlighted by the yellow letters, which is currently breaking its neckline. For the tradable implications of this formation and other trades, please tune in to today's video, prepared for our Premium subscribers "Onto & Beyond the Fed Decision"
Does it appear too good to be true? If valid, the current formation suggests an objective near 11850s. Would this be achieved this week once markets are dissatisfied with a mere 25-bp rate cut from the Fed? European markets are already somewhat disappointed by the lack of new information from Draghi last week. With regards to that 12650 high reached at the start of July, we predicted it 3 months earlier in this post.
More Hot-Charts
Nov 18, 2019 21:34 | by Ashraf Laidi

Those who have shorted equity indices over the past 3 weeks (like I have) were simply wrong.

Oct 16, 2019 15:08 | by Ashraf Laidi

As GBP becomes the 2nd highest performing currency in the G10 since the start of the year, posting daily gains not seen in 10 years, here is a look at the current yields situation, with GBP...

Sep 2, 2019 20:21 | by Ashraf Laidi

Some subscribers complained that last Tuesday's Premium trade (Aug 27) shorting the DAX30 was issued too early in the morning (many did not hear the SMS, see the email, Tweet or Telegram...
Hot-Chart Archives