Hot-Charts
أداء العملات مقابل الذهب
أداء العملات مقابل الذهب يشير الينا ان الين اقوى عملة و الكندي الأضعف كما نشاهد التحسن الملحوظ في اداء الإسترليني منذ بداية العام. ايضا نلاحظ الهبوط الواضح في الاسترالي منذ نوفمبر إثر سقوط البورصات. أهمية مقارنة العملات مقابل سوق محايد يسهل إستيعاب حركات العملات بطريقة عضوية ـ أي بدون تأثير من باقي العملات
Click To Enlarge
Click To Enlarge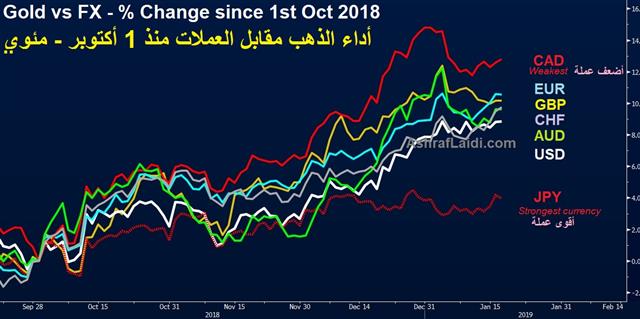 More Hot-Charts
Jan 7, 2020 11:17 | by Ashraf Laidi

The latest on share price performance of major forex firms shows CMC Markets in the lead, up 34% since January 2019, followed by IG Markets' 20% and Swiss Quote at 9%.

Nov 18, 2019 21:34 | by Ashraf Laidi

Those who have shorted equity indices over the past 3 weeks (like I have) were simply wrong.

Oct 16, 2019 15:08 | by Ashraf Laidi

As GBP becomes the 2nd highest performing currency in the G10 since the start of the year, posting daily gains not seen in 10 years, here is a look at the current yields situation, with GBP...
Hot-Chart Archives