Intraday Market Thoughts
5 Things About the Chinese Stock Rout
US core durable goods orders were solid on Monday but failed to boost the US dollar because the shipments components were weak and that's likely to hurt GDP later in the week. The euro was the top performer as it rose above 1.11 while the Australian dollar lagged on China worries. We take a closer look at the rout in Chinese stocks and try to put it into perspective. Our EURAUD Premium long @ 1.4690 from June 17 is currently netting +520 pips. EURUSD and USDCAD are also in progress.
Click To Enlarge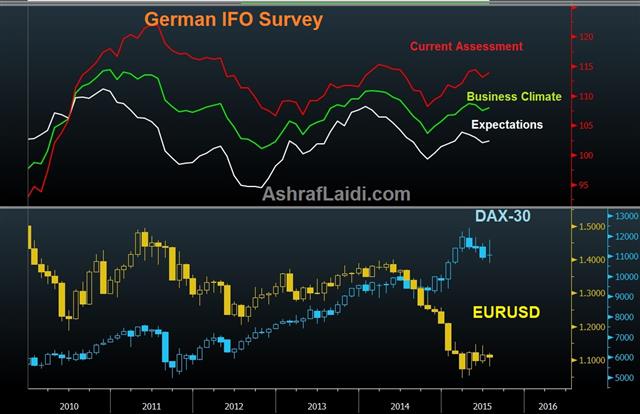 1) "The worst selloff in 8 years"
The 8.5% fall on Monday is technically the worst fall since the crisis but it only marginally exceeds some other recent declines and is well short of some of the 10% intraday moves in recent months. It's a big fall but the game hasn't changed.
2) The signal from base metals is more worrisome
The Bloomberg base metals index is down 6% since May and at the lowest since 2009. This, much moreso than Chinese stocks sliding, is a reason to worry about the Australian dollar. Iron ore prices remain above the July lows but they're in danger.
3) The Shanghai Composite is up 79% in the past year
Lost in all the talk of a 28% fall from the June high is a reminder that since July 27, 2014, the index is up 79%. That kind of performance and the 15% ytd gain would be the envy of the world if not for the associated volatility.
4) Chinese policymakers reiterated a desire to help
The most noteworthy news in US trading was a denial from China Securities Finance that it was leaving the market. Officials reiterated that they will continue to act as a market stabilizer and will increase buying. That could help calm markets today.
5) Distrust Everywhere
We don't think it's now but one day there will be a true rout in China and this episode offers important lessons. One is that Chinese opacity constantly leaves the market in doubt and on edge. There is a report that China has spent as much as 550 billion pounds in stock buying. A survey of emerging market money managers shows most believing Chinese growth is in the 5-6% range, not 7%. There is a deep distrust of China that can turn a blip into a panic at any time.
Act
Exp
Prev
GMT
Durable Goods Orders (JUN)
3.4%
3.2%
-2.1%
Jul 27 12:30
Durables Ex Transportation (JUN)
0.8%
0.5%
-0.1%
Jul 27 12:30
Latest IMTs