Intraday Market Thoughts
Another China Weekend Rate Cut?
Oil touched a six-year low Thursday but markets were generally calmer as China worries dissipate. The pound was the top performer while the kiwi lagged. The yuan setting and a speech from the RBA's Kent are Asia-Pacific highlights ahead of Eurozone GDP later. Ashraf's Premium Insights issued a new note & key EURUSD volatility chart & rationale ahead of Friday's key Eurozone GDP & CPI data. The trade, opened 5 days before the last NFP, is +130 pips in the green so far.
Click To Enlarge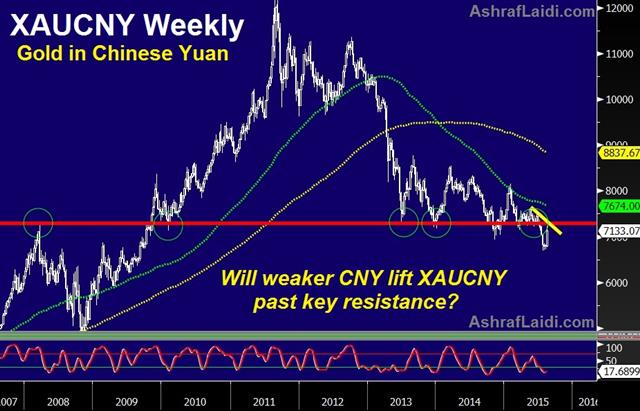 Rumours of Chinese action are ever-present in markets but expect them to ramp up on Friday ahead of the weekend. Every PBOC move on rates this year has come on a Saturday and it's been six weeks since the June 29 cut.
A cut this weekend would be unwise. It wouldn't be seen as an effort to strengthen the economy, but rather as a sign of panic due to a plunging economy. China has no doubt slowed but we don't believe it's cratering. Still, official moves lately have been haphazard and a weekend cut can't be ruled out.
For Friday, the trade is the rumour and it will first be reflected in Shanghai Composite trading to close out the week. It will rally but might be set up for disappointment Monday.
The main news item Thursday was the US retail sales report. Given the upward revisions, it was stronger than expected but after a brief rally, the US dollar faded. That strengthens our conviction that the dollar trend may be coming to an end.
The main event to watch in Asia-Pacific trading is the yuan fix at 0115 GMT. Yuan closed fractionally above the previous day's fixing so the rate will likely reflect that and end the three days of devaluation. Any kneejerk moves should be faded similarly to yesterday's AUD/USD drop.
Along with the fixing, the RBA's Kent speaks at 0215 GMT on 'recent labour market developments.' The battering of the Australian dollar earlier this week on China fears wasn't justified and upbeat comments about the jobs market could help the Aussie rally into the weekend.
Act
Exp
Prev
GMT
Eurozone GDP s.a. (Q2) (q/q) [P]
0.4%
0.4%
Aug 14 9:00
Eurozone GDP s.a. (Q2) (y/y) [P]
1.3%
1.0%
Aug 14 9:00
Eurozone CPI (JUL) (m/m)
-0.6%
0.0%
Aug 14 9:00
Eurozone CPI (JUL) (y/y)
0.2%
0.2%
Aug 14 9:00
Eurozone CPI - Core (JUL) (y/y)
1.0%
0.9%
Aug 14 9:00
Advance Retail Sales (JUL)
0.6%
0.6%
-0.3%
Aug 13 12:30
Retail Sales (ex. Autos) (JUL)
0.4%
0.4%
0.4%
Aug 13 12:30
Retail Sales Control Group (JUL)
0.3%
0.5%
0.2%
Aug 13 12:30
Retail Sales Ex Auto and Gas (JUL)
0.4%
0.4%
0.2%
Aug 13 12:30
Retail Sales (Q2) (q/q)
0.5%
2.7%
Aug 13 22:45
Retail Sales ex Autos (Q2) (q/q)
2.9%
Aug 13 22:45
Latest IMTs