Intraday Market Thoughts
German-US Yield Spread Breaks out
Bond yields fell across the board since mid-June, but the more meaningful fact for currency traders remains yield differentials. For EURUSD watchers, the rate of decline in 10-year bund has been slower than its US counterpart, which led to a stabilisation in the German-US spread (not US-German) to the extent of breaking above an important 3 ½ year trendline.
Click To Enlarge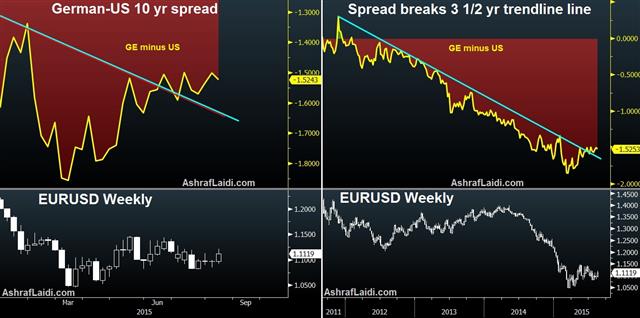 Today's release of US July retail sales rose by a robust 0.6%, with the bulk of the sales occurring in autos and online, while sales in department stores and of electronics were negative.
The dissipation of Greece risks and near deal with creditors has cemented stabilisation of the single currency, while the probability of a September Fed hike hovers between 40% and 50%. The disinflationary consequences of further CNY weakness could still occur as long as the CNY does not reverse its recent declines.
A deeper CNY devaluation may not be in the cards, but it is somewhat too late to avoid disinflation risks from China when the post-devaluation action suggests the currency will remain neutral-to-weak following an established 50% decline in oil prices over the past 13 months, including a 30% decline since May.
EURUSD today ended a 5-day winning streak, which was the longest since April. The last time the pair had risen 7 days in a row was in December 2013. We stick with our view that the peak of the US dollar bull market (measured in USDX) is already behind us.
Our EURUSD long opened six days before the Aug 7 release of the US jobs report at 1.1020 remains in the green, and is halfway its final target. A fresh update is due today, alongside the other five existing Premium trades.
Act
Exp
Prev
GMT
Advance Retail Sales (JUL)
0.6%
0.6%
-0.3%
Aug 13 12:30
Retail Sales (ex. Autos) (JUL)
0.4%
0.4%
0.4%
Aug 13 12:30
Retail Sales Control Group (JUL)
0.3%
0.5%
0.2%
Aug 13 12:30
Retail Sales Ex Auto and Gas (JUL)
0.4%
0.4%
0.2%
Aug 13 12:30
Latest IMTs