Intraday Market Thoughts
BoE Hawks Touch Down, Japan Next?
The Bank of England became the third central bank this week to send a surprisingly hawkish message. The pound edged out the dollar as the top performer while the yen lagged. The BOJ decision is up next. 2 new trades in indices have been issued on the Premium Insights.
Click To Enlarge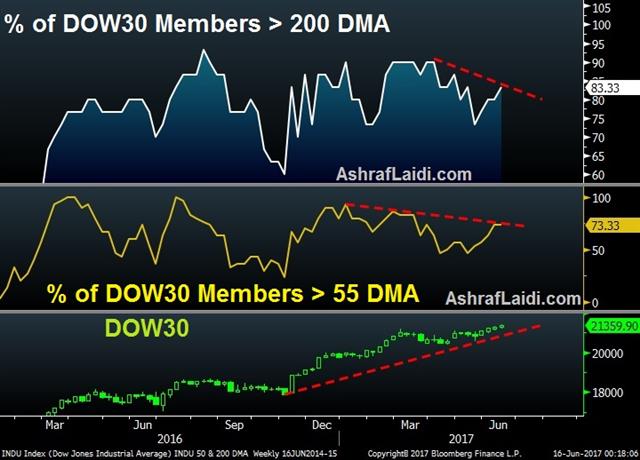 The MPC held rates unchanged as anticipated but the vote was a surprising 5-3 instead of the widely expected 7-1, with Saunders and McCafferty joining Forbes in calling for a rate hike. There was also some effectively pro-pound jawboning in the statement as it said continued weakness in the currency would push CPI further above 3%.
Cable traders were caught off guard and the pair jumped to 1.2795 from 1.2700. One caveat is that this was Forbes' last meeting so all else equal there will only be two dissenters next month, thereby, helping to cap GBP strength. The market was hoping for more clarity from Carney at the Mansion House speech but it was cancelled due to the London fire tragedy. The text may be released on Friday but no time has yet been specified.
Aside from the GBP move, the US dollar remained the performer as the FOMC momentum continued. USD/JPY was especially buoyant as it climbed more than a cent to 110.98 in New York trade. The gains were barely slowed by soft US reports on the import price index, NAHB housing market index and industrial production. Better news for the dollar was once again confined to soft data surveys as the Philly and Empire Fed beat.
In the bigger picture, the BOC, Fed and BOE all delivered hawkish surprises this week -- a trend that can't be ignored. It speaks to the confidence that central banks have that growth is really coming this time. Markets were burned by the reflation trade at the start of the year but the old saying that 'you can't fight the Fed' still rings true.
A final twist this week would be if another central bank adds to the chorus. The BOJ gets the chance with today's decision on interest rates. A hike is out of the question but even a subtle shift to something less dovish would be a surprise.
As we noted earlier this week, numbers from Japan have been solid. Exports have picked up and industry has some momentum. Kuroda has signaled in the past that he will be very patient but Poloz sounded the same way until this week.
If there is a shift, the bottom will fall out of yen crosses and it would send a broader hawkish signal that would seriously threaten equities and risk assets.There is no set time for the decision but it's usually around 0300 GMT.
Act
Exp
Prev
GMT
FOMC's Kaplan Speaks
Jun 16 16:45
NAHB Housing Market Index
67
70
69
Jun 15 14:00
Latest IMTs