Intraday Market Thoughts
Britain's Brexillent Adventure Begins
The pound fell sharply in early trading after London's mayor announced he's in favour of leaving the EU, following Friday's late session rally in reaction to PM Cameron's reaching a deal with the EU. Cable is down nearly 150 pips in early trading with other pairs largely unchanged. The Nikkei Japan manufacturing PMI is due later. Among the 6 existing trades in the Premium Insights, there is one GBP trade and one short in the FTSE.
Click To Enlarge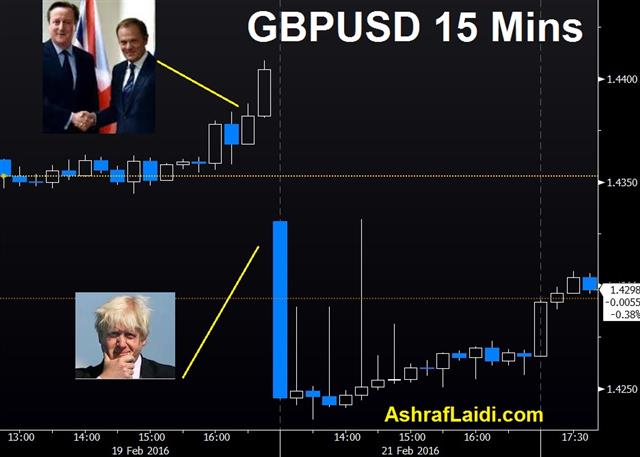 Sterling surged late on Friday when Cameron and EU leaders announced a deal. Those gains evaporated and GBP fell a cent more when markets re-opened. A big reason why was that Boris Johnson, the influential London mayor and potential successor to Cameron, announced that he will campaign for a Brexit.
Another reason for pound weakness was that Cameron set a June 23 referendum date. There was always a slim chance he would back away from a promised referendum call with a deal in hand but that didn't happen. Setting a date also has a way of focusing the market on the pending uncertainty that will undoubtedly be a part of GBP trading for the next four months.
Finally, the public will now be fully engaged in the debate. The polls later this week (and subsequent weeks) will be critical for sterling and the FTSE. The tendency in such events is for Exit supporters to get early momentum as the public flirts with the idea of change. Later, as the possibility of something new and unknown nears reality, the public swings back to the safety of no change. But this will be no Scotland Referendum.
Cameron gave an early hint of how he will campaign for keeping Britain in the EU. He will stick to the tried and true tactic of warning that leaving the EU will cause uncertainty and hurt the economy. That's proven to be a formidable technique. Cameron himself used similar messages and scared the Scottish in their independence vote. Have we mentioned Scotland is highly likely to exit the UK if the latter votes to exit the EU?
In the near-term, expect a market that is hyper-sensitive to headlines. Technially, the low so far today is $1.4235, which matches last week's low. A break would open the way towards the recent cycle low of $1.4080.
Aside from the UK, Japanese stock markets opened modestly lower and there is a mild tone of risk aversion in a continuation from Friday. Yen traders will look to the Nikkei preliminary manufacturing PMI for Feb at 0200 GMT. The consensus estimate is a reading of 52.0 from 52.3 previously.
Act
Exp
Prev
GMT
Nikkei PMI Manufacturing (FEB) [P]
52.0
52.3
Feb 22 2:00
Markit Manufacturing PMI (FEB) [P]
52.5
52.4
Feb 22 14:45
Latest IMTs