Intraday Market Thoughts
USDX Diamonds Ahead of GDP & G20
Now things become more interesting. Stocks are no longer in a free fall, yields stabilize, gold holds up and oil is back down after traders take a language lesson in the difference between "freezing", "raising" and "cutting" oil production. Above all, they ought to remember where oil production currently stands relative to consumption, without the need to be an expert in MidEast geopolitics.
Click To Enlarge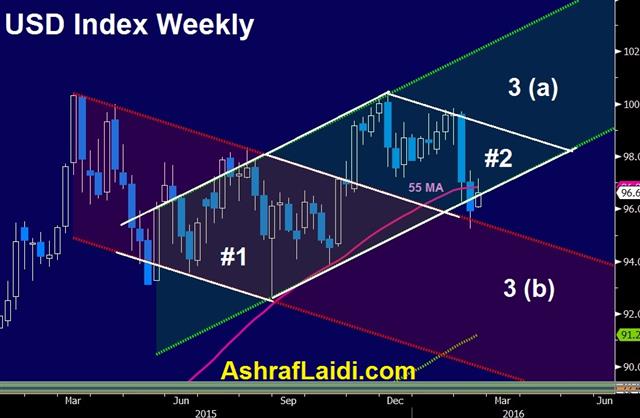 On Friday, 2 things will be in traders' minds—the 2nd revision of US Q4 GDP (due Friday)-- and the rumours/denials ahead of the Feb 26-27 G20 meeting in Shanghai.
But before that, a chorus of Fed speeches is set for this week, the most important of which, will be Fed vice chair Fischer at the annual CERA energy conference in Houston--the same event when Saudi oil minister Ali Al Naimi is due to speak. Ahead of the weekend's G20 meeting and the related soundbites.
Fed speakers:Fischer (Wed 1:30 GMT), Bullard (Thurs 0:00 GMT), Lockhart (Thurs 13:15 GMT) and Williams (Thurs 17:00)
USD and equity bulls have a reason to breathe a sigh of relief in a week when US indices have had the first 3-consecutive day advance since the Santa Rally and the USD index ended a back-to-back weekly decline at a level, coinciding with a 5-month trendline support and the 55-week MA. The chart above suggests grounds for both USD bulls and bears, with the former anticipating the index to sustain support inside diamond #2 before making its way to the 99.80 resistance and break on to diamond 3(a), while the latter expect a failure of this attempt before heading back to diamond #3(b).
Our approach towards the above is already being reflected in the 6 existing trades of our Premium Insights, backed by the necessary charts & fundamental rationale. 5 of the 6 trades are currently in the green.
Latest IMTs