Intraday Market Thoughts
China Retaliates, Gold Nears 1300
A full-scale trade war between the US and China is closer than ever after Beijing hit back with retaliatory tariffs on Monday. The Chinese yuan fell by more than 1%, prompting a selloff in copper, while gold jumped $11 to 1299 and Bitcoin hits $7400. USD fell across the board on reports that some Chinese scholars have mentioned Beijing taking the "nuclear option" -- selling US treasuries. Risk trades have been hit hard to start the week with safe haven assets surging. CFTC positioning data continues to show crowded USD longs. The Premium short in USDJPY hit its final target of 109.40 from 111.30 entry.
Click To Enlarge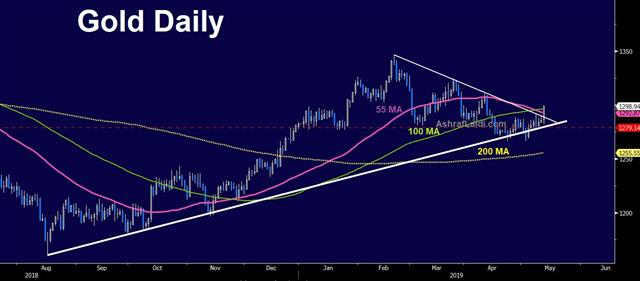 Beijing announced it will hit $60 billion in US imports with 5-25% tariffs on June 1. The announcement worsened a sour mood in markets. It was also coupled with reports that China will cut purchases of US agriculture, energy and services along with the chatter about selling Treasuries.
The announcement came after Trump ramped up the rhetoric throughout the weekend, tweeting about tariffs more than 30 times.
The reaction in the FX market was to buy the yen. USD/JPY is down nearly a full cent to start the week with commodity currencies even lower against the yen. The euro is near the highs of the month as dollars are sold on USD-centric risk.
The talk of Treasury selling was overwhelmed by demand for safe haven assets with yields 4-8 bps lower across the curve. Gold is up nearly 1% and Bitcoin gapped 18% to $7430. US stocks sink more than 2%.
The escalation and rhetoric from both sides mean it will be difficult to engineer a quick climb-down. Trump has relentlessly emphasized the cash gains from tariffs and tied them to 3.2% GDP growth in Q1. However a sharp fall in US equities could have him quickly changing course.
CFTC Commitments of Traders
Speculative net futures trader positions as of the close on Tuesday. Net short denoted by - long by +.
EUR -106K vs -105K prior GBP -7K vs -5K prior JPY -92K vs -100K prior CHF -40K vs -40K prior CAD -46K vs -47K prior AUD -57K vs -59K prior NZD -13K vs -11K prior
Latest IMTs