Intraday Market Thoughts
China-US Dealmaking Underway
Signs of a thaw on trade between the US and China could help risk appetite to start the week. Last week, the Canadian dollar was the top performer while the kiwi lagged. Yesterday, Trump commented on progress in the US-China trade talks (more in that below). Euro pushed higher after remarks from ECB's Francois Villeroy de Galhau (Bank of France) indicating euro area's economic slowdown is temporary and that accelerating inflation will resume over the upcoming months. Also weighing on USD were statements from Fed's Loretta Mester that the jump in March may not persist.
Click To Enlarge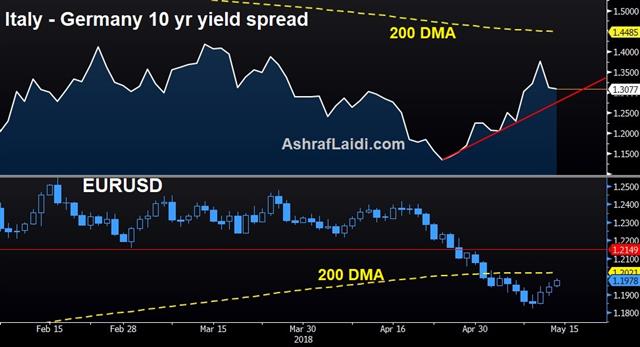 Trump tweeted that he had instructed the US Commerce Dept to ease up on a parts blockage against Chinese phone company ZTE. It wasn't clear what Trump may have gotten in return but it could be progress on North Korea or something on trade. In any case, it's a small sign of better relations.
Late Friday, there were reports that Mexico has begun its annual oil production hedging trade. The Ministry of Finance will spend the next six months locking in 2019 production in what's billed as the world's biggest oil trade. News that it was starting led to some late selling in crude Friday. The decision to lock in prices near the $70s would be more beneficial than last year's sales under $50 per barrel.
CFTC Commitments of Traders
Speculative net futures trader positions as of the close on Tuesday. Net short denoted by - long by +.
EUR +121K vs +121K prior GBP +9K vs +26K prior JPY -5K vs -1K prior CAD -33K vs -19K prior CHF -33K vs -19K prior AUD -6K vs -7K prior NZD +13K vs +17K prior
The two notable moves were to cover sterling longs and to sell the Swiss franc. The spec market as obviously caught offside in GBP longs and was forced to cover when Carney and the economic data made a U-turn. The shift into franc shorts might represent more optimism for equities and higher bond yields elsewhere. The SNB is miles away from a hike into positive territory.
Latest IMTs