Intraday Market Thoughts
Jobs Report Leave BOC in Tough Spot
The headline on the Canadian April jobs report was soft but the details were encouraging and that will make the BOC decision May 30 a tricky one. The Swiss franc was the top performer Friday with the loonie lagging but CAD is tops for the week and the quarter. Both the FTSE and the DOW30 trades were stopped out, while the USDCAD trade was closed at a gain.
Click To Enlarge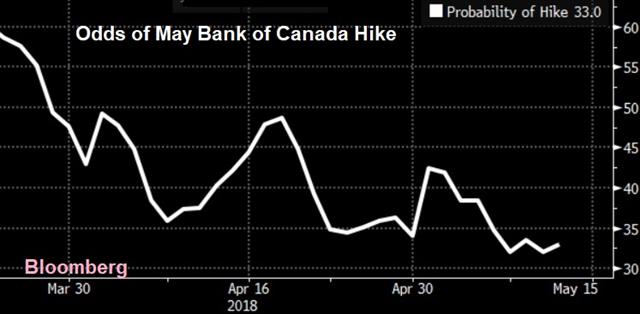 Canada lost 1.1K jobs in April compared to the +20K reading expected but the headline doesn't tell the full story. Full time jobs increased by 28.8K with all the losses in part time. Moreover, hourly earnings for full time employees rose 3.3% compared to 3.1% previously to match the best since 2014.
The implied odds of a BOC hike at the end of the month remain at 33%. A speech from Wilkins Friday didn't touch on monetary policy and the only remaining scheduled BOC speech before the decision is from Lawrence Schembri and he rarely weighs in on policy.
In terms of economic data, next Friday's Canadian CPI and retail sales are the only top-tier numbers to come so the market will likely head into the decision off balance. We will be watching closely for any BOC signals in the week ahead – likely in the form of a Poloz press interview.
The US dollar softened a bit on Friday with the euro rising to the highest since Monday. The same economic questions continue to plague the Fed and markets. U Mich consumer sentiment beat estimates at 98.8 vs 98.3 expected and one-year inflation expectations ticked up to 2.8% from 2.7% but for months (if not years) survey data hasn't translated into hard data and the Fed will need to see that transition before hiking later this year.
Latest IMTs