Intraday Market Thoughts
Clashing Trade, Brexit & Fed
President Trump's tariffs on China have taken effect on the week when the Fed meets to raise rates for the 3rd time this year and speculation mounts on whether UK voters may be called up again as talk about a second referendum or a snap election will be the way to go. CFTC positioning showed big moves in GBP and AUD. There are holidays throughout Asia to start the week, while Germany's IFO sentiment survey emerged slightly better than expectations. ECB president Mario Draghi indicated today "relatively vigorous" pickup in Eurozone inflation, further bolstering chances that ECB will begin raising rates next year after it concludes its QE program in December. A new USD trade has been issued to Premium subscribers, supported by 2 charts.
Click To Enlarge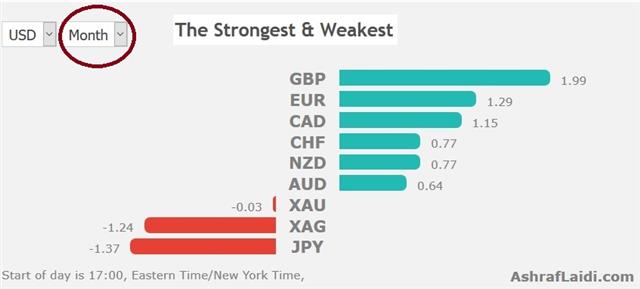 On Friday, cable fell by the most in a single day since June 2017 as it plunged to 1.3075 from 1.3265 on a sudden diplomatic crisis for Theresa May. France's Macron led a messaging switch from the EU as he attacked Britain's negotiating position. That was compounded by the usual fear-mongering in the UK press.
As the attacks on May intensified, she was forced to make a statement where she warned that no Brexit deal was worse than a bad one. The pound took no comfort in that on fell to a new low.
As the opposition Labour Party gathers for Party's annual conference, members overwhelmingly said they want a say on the final deal. Reports also leaked out that Conservatives were game-planning for a snap election on a potential hard Brexit.
What next? A new vote or election would be GBP-positive after the initial jitters but that's still unlikely. Instead, look for May to continue to stagger forward towards some kind of deal. The main players in negotiations have been generally upbeat so a deal is likely closer than the screaming headlines in the UK press suggest. Traders must adopt extra care when selecting the right GBP pairs and crosses. A new GBP trade was issued on Friday.
CFTC Commitments of Traders
Speculative net futures trader positions as of the close on Tuesday. Net short denoted by - long by +.
EUR +2K vs +11K prior GBP -79K vs -61K prior JPY -64K vs -54K prior CHF -18K vs -35K prior CAD -30K vs -27K prior AUD -68K vs -44K prior NZD -32K vs -22K prior
What's impressive about increasing cable shorts is that they piled in before things went sideways after Salzburg. Even in a crowd that's already trade, there appears to be plenty of appetite to sell the pound. Meanwhile, the timing on the fresh shorts in AUD and NZD was poor with both making hefty gains this week.
Latest IMTs