Intraday Market Thoughts
Four Reasons USD is Slipping
The US dollar has suddenly turned in a move that's left some market watchers scratching their heads, while others vindicated. Earlier this week, Ashraf' issued a special video for Premium subscribers titled "Invalid Thesis" related to the US dollar. The DOW and DAX trades were stopped out while the EURUSD and USDCAD were closed at a profit. Canadian CPI and retail sales are due next. Meanwhile, the pound is falling across the board on a BBC announcement that PM May will make a statement at 15:45 London time indicating she will not be changing her position on Brexit (TRNSLTN: sticking with her Checkers Speech and augmenting odds of a no-deal Brexit).
Click To Enlarge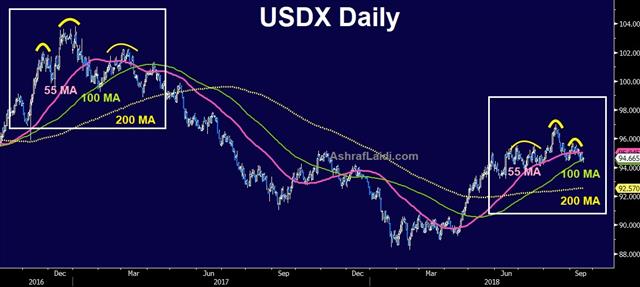 The US dollar has quickly fallen to multi-month lows on a variety of fronts even as Treasury yields rise to multi-month highs and economic optimism rises. It's a change in correlation that's caught many off guard. Here are some of the reasons for the shift:
1) Global growth Trade wars are a looming risk but so far the hype hasn't matched the reality. Companies may be able to better-withstand the pain than believed
2) Midterms Pollsters are saying there is a 75% likelihood Democrats will take the House. That will cripple any chance of further US tax cuts but, more importantly, it will curb Trump's ambitions on trade and leave the US deadlocked once again.
3) Positioning This has been a looming risk on almost every front. CFTC positioning shows the market unequivocally long US dollars and better economic data in the UK and elsewhere has inspired short covering.
4) Twin deficits Rising yields are at least partly due to US trade and current account deficits expanding and the potential costs of financing external debts at a time when opportunities are beginning to present themselves elsewhere.
What's next? Stephen Jen pioneered the idea of the 'dollar smile'. It's a chart illustration of how the US dollar strengthens as growth is either 1.5% stronger or 1.5% weaker than G7 peers. The latest signal from the market may be that growth elsewhere will catch up to the US in the year ahead as the effects of the tax cut fade and other economies pick up. It's early days still, but this is a long-term trend to watch.
Act
Exp
Prev
GMT
CPI (m/m)
-0.1%
0.5%
Sep 21 12:30
Prime Minister May Speaks
Sep 21 12:45
Latest IMTs